Wah Kee Noodle has more than just noodles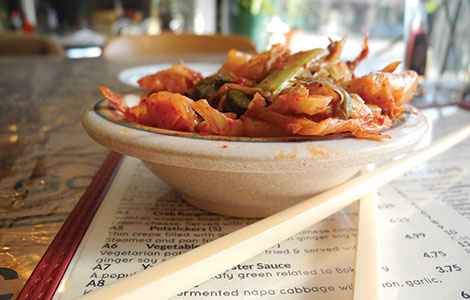 Wah Kee Noodle Restaurant sits quietly in the shopping complex slowly being abandoned at the corner of Williamson Street and John Nolen Drive. Homemade, Cantonese noodles are their specialty, but there are lots of different cuisines offered here.
Their menu is huge and recently I tried an interesting selection of food, including ultra healthy kimchi (kim-CHEE) and alien (appearing) mushrooms.
Kimchi is a traditional Korean food, consisting mostly of spicy fermented cabbage. Koreans eat about 40 pounds of it, per person, per year. At Wah Kee, the appetizer comes in a small dish, a few ounces of briny, salty goodness.
It's a nice start to the meal and can be used as a condiment for additional dishes. It's packed with probiotics, like lactobacillus bacteria and antioxidants to improve heart and brain health. It can help lower cholesterol and boost overall immunity. It's a natural source of energizing B-vitamins and depression lifting capsaicin. I have tried many Asian restaurants in Madison, and this is the first time I've found kimchi on the menu in the downtown area.
I also tried vegetarian spring rolls, deep-fried and stuffed with thinly sliced tofu and mushrooms.
They were hot and crunchy, appearing minutes after ordering, but tasted pretty bland.
Buddha's Delight fulfilled my extraterrestrial craving. Flat mushrooms with large holes looked like the cross sections of brains within my stir-fry.
"I have no idea what I'm eating, and I like it," said my dining companion. The sauce was mild and slightly garlicky. The vegetables were decently fresh and the portion was more than generous for the price.
I also shared the Jambong, seafood stew, but it was the most disappointing dish I tried. It was described as spicy, but it was uninspiringly bland and the seafood was very tough and rubbery.
Mussels, shrimp, squid, and imitation crab were the bulk of what I found, all overcooked to a bounce or mushy meal. Ordering seafood is usually a risky option, and I would definitely not recommend it here. The bowl was otherwise filled with homemade egg noodles and some cabbage.
The best part of the meal was the kimchi, and the subsequent motivation for me to ferment some of my own. The menu was so huge, I'd probably give this place another shot, but there are many other places offering delicious combinations of noodles, vegetables and sauce that might get my cash instead.