UW Jazz offers entertaining performance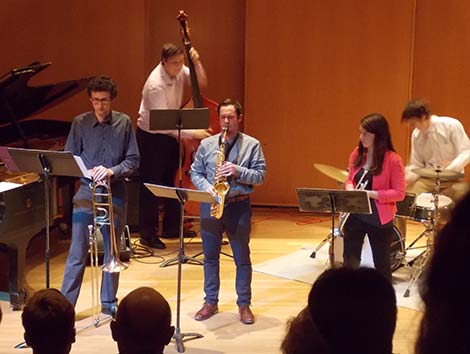 Last week UW Jazz held a performance for their Blue Note Ensemble and Jazz Composers Septet.
The Blue Note, directed by Johannes Wallmann, gave a wonderful performance, playing the music of Freddie Hubbard.  I especially enjoyed their rendition of "The Core," originally recorded by Art Blakely and the Jazz Messengers.  It really evoked the feeling of being in a dimly lit smoky room, and that old and tired feeling that Jazz should give you.
Another memorable song they played was "Body and Soul."  I found Tobiah Steckel's use of brushes on drums really stuck out and put forth that sad, rainy winter feeling.
The Composers Septet performed a few songs that their fellow students had written and a few written by their director, Les Thimmig.  One that really stuck out was "Fading Gold," which was written by student Alex Charland.  It was a fabulous piece; reminding one that, although the gold of autumn has faded, spring will return to us at some point.
The entire performance itself was a work of beauty, tugging at emotions both happy and sad, and overall accomplished exactly what one would like to see in a jazz performance.  It wasn't hard to see that these young musicians were putting forth all of their effort into this recital. It was a great thing to witness.
These groups are all classes offered to music students at UW, and they perform on a regular basis.  The Blue Note Ensemble performs the music of artists from the 1950s and 1960s, whereas the Jazz Composers Septet focuses mainly on student compositions.
For more info on jazz in the Madison area, go to greatermadisonjazzconsortium.org or tune in to Jazz On The Radio on WORT – FM Monday-Thursday from 2 p.m. to 5 p.m. and Saturday, at 10 a.m.
If you would like to listen to performances from the UW-Madison School Of Music online, checkout their Soundcloud: https://soundcloud.com/uw-madisonsom.