College's two salons offer great value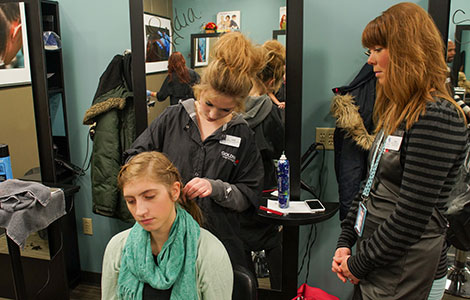 Ladies, have you ever just wanted to look nice but can't afford to go to an expensive salon? And all you boys, after no-shave-November are you going to want a clean face?
Madison College offers many services for their students, but one of the more exciting services are the campus salons. There are two different locations one at the Truax campus called TruStyle, and the other at the downtown campus called Madison College Salon.
Both salons have friendly students that want to make you look beautiful by practicing their skills on real clients. These students have one year to learn and practice their skills. It only makes sense that they would need your help.  Some of you may be nervous to get your hair done by someone who is just learning, but I assure that each time I have been to the salon, there have been teachers walking around checking the students' work and making sure you leave happy.
I have visited both salons and enjoyed the experience very much. At the Downtown Salon I got my nails done. The student took her time and in the end my fingernails and toe nails looked beautiful. The TruStyle Salon is a little bit smaller than the Downtown Campus, but they are always busy working with clients. When I went to Trustyle, I got my hair braided. It was nice to see the teacher helping the student along.
These salons offer many different services. To see a full list of Salon Services and hours, go to madisoncollege.edu and search salon services. Some of their services include $12 haircuts, $10 manicures, and $8 beard trimmings.
Both salons have promotions going on right now up until Christmas break. If you take a selfie of the work you had done at the salon they will give you at 10 percent discount on your service. Also, if you book a basic manicure appointment, you get a free paraffin dip. They're also having a holiday sale with a 10 percent discount on all products like hair products and nail polish.
The salons will be closed starting Dec. 12 for winter break, so treat yourself and schedule your appointments today.