Gallery 211 opens at the Downtown Campus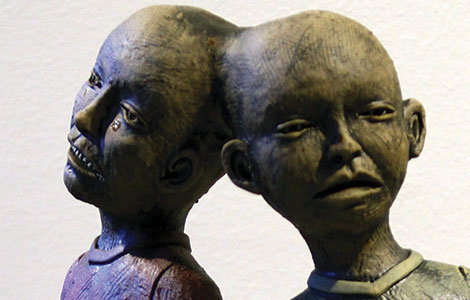 Gallery 211, located at Madison College's Downtown Campus, hosted its vibrant debut on Nov. 14, featuring over 27 faculty exhibitions spread out across 825 square feet.
"The purpose of this gallery is for people to gain a better sense of how dedicated our faculty are in working with different disciplines," said Gregory Shulte.
Shulte is the director for the College Transfer Art Department, which includes art, photography, drawing, painting, design, ceramics, and art metal.
"The gallery is also the first opportunity the students have to be able to showcase what they do. It acts as motivation because this is why the students make art, to share it with the world, and now they can do that. The faculty's displayed passions translate into inspiration for the students," Shulte said.
The Applied Arts Department has been asking for a gallery for several years, and it's taken until now to finally acquire one.
"Arts are always last on the ladder for funding," said John Ribble, drawing instructor at Madison College for the past 32 years. "But recently, the college has become more supportive of our efforts which forms a stronger case (for funding)."
The gallery will display creations by faculty, students and prominent local artists.
"This gallery is so important for the downtown campus. We've lost a lot of programs, like health education, to Truax campus, and we only have a few programs left," said Ya-Ling Tsai, photography instructor at Madison College for the past 10 years. "We don't even have a cafeteria anymore, and so we really want to create a more vibrant space for students to hang out."
The gallery serves as more than just a place for artwork to be displayed, but as a place for both reflection and learning, serving as an institutional exhibition with a comforting, welcoming atmosphere.
"Applied arts instructors can now use this gallery as a broader extension of their teaching," Shulte said. "Instead of just reading about how to frame work, students can come here and see it with their own eyes. We hope to develop a gallery practice course in the future to teach about curating themes and lighting and other gallery practices."
The gallery's second theme show will be called "Dystopia Now," and will feature the works of local artists, as well as dystopian films presented on the monitor in the lounge space, in early February.