Celebrate Thanksgiving by helping others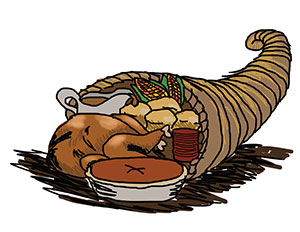 It's Thanksgiving time, and how does Madison College give thanks? By participating in an All Clubs Service Project, of course! For this fall's Service Project, November 3rd-14th, the Madison College Executive Leadership Team and The Volunteer Center collaborated for the 3rd Annual Thanksgiving Food Drive.
"We do this, so that all clubs are working on one project together," stated Lori Erickson, the advisor of ELT.
Last year, the clubs collected approximately 1,650 items and $400 in donations for perishable items such as turkeys, butter, eggs and dinner rolls, which then were donated to the Goodman Community Center.
Each year, 2,500 families receive a Thanksgiving basket from the Goodman Community Center. The recipients get the items they need to have a good, nutritious Thanksgiving meal. The All Clubs Service Project has not always been about Thanksgiving. It all started when,
"One of my students wanted to do a service to help soldiers," Erickson said, "We have done something ever since." In fact, there is an All Clubs Service Project every semester.
"It's been very successful the past few years," said Erickson. "It's right around the time everyone wants to give thanks. Plus, there are prizes! …What I love is the end result, when we take a photo of everything that was collected, and knowing that it is going to a good cause."
How To Get Involved
Students can collect food items and cash donations – each is worth one point. Food items needed include: cranberry sauce (canned or jarred), instant mash potatoes, pumpkin pie filling, evaporated milk, canned vegetables, gravy (packet or canned), canned fruit pie filling, pie crust mix, disposable roasting pans and disposable pie tins.
Clubs can bring items and donations to the Truax or Downtown Student Life Center.  The prizes are as follows: 1st place is $300, 2nd place is $125 and 3rd place is $75.