Freakfest brings revelers to State Street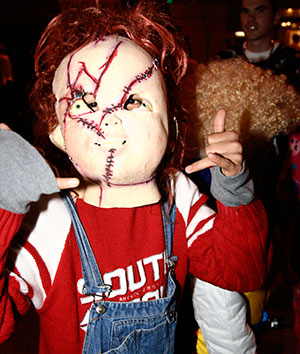 It's that time again, when many residents get dressed up and enjoy live music and array of costumes up and down State.  Freakfest is coming back to Madison this Halloween.
The Frank Productions event replaced Halloween on State Street festivities in 2006, after they caused thousands of dollars in property damage and were considered a threat to public safety and local businesses.
The lineup was released on Oct. 16, featuring the Twin Cities artist Atmosphere, New York sensation American Authors and the California band The Mowgli's. Local acts such as Eagle Trace, Catch Kid, Sky Urchin, Dense City and Midas Bison will also be featured.
Tag Evers of Frank Productions explained in an article for the Isthmus that they really try to balance national artists with local acts.
"Four out of five artists on the WSUM Stage are local," said Evers. "Two of six artists on the Capitol Stage are local. We think it's important [to feature local musicians], and we could do a better job. We're aware that people like the idea of playing Freakfest, and we want to make that more possible for a wider range of artists. There aren't many times where you get to play in front of this many people."
Tickets for the Nov. 1 event can be bought at a variety of locations.  They are no longer available online but are still available at many local businesses including B-Side Records, Community Pharmacy, Knuckleheads, Mallatt's Pharmacy, Stop and Shop, Ragstock, Strictly Discs, University Bookstore, Red Card, Osaka House, Sunshine Daydream, Madison Optometric Center, Tower Apartments and Los Gemelos.
Tickets are $8 in advance and $12 at the gates.
Frank Productions just recently announced a new costume contest they will be hosting this year.  To participate, party goers and costume fanatics alike need to take a picture of their costumes and post them to either Twitter or Instagram with the tag #FFCostumeContest.  The contest runs through the end of Freakfest 2014.  Prizes include four tickets to Freakfest 2015, $100 cash, or a $100 red card meal plan giftcard.
For the full line up and information, visit http://host.madison.com/freakfest/.