Scaring and caring
Local haunted house supports addiction recovery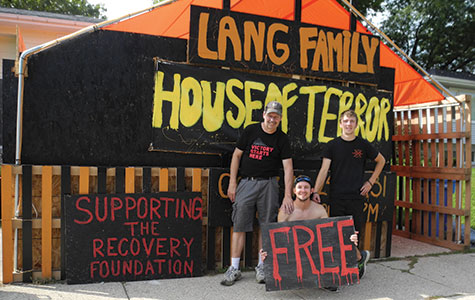 If you're looking to get spooked and help out a good cause this October, look no further than Oregon, Wisconsin's very own Lang Family House of Terror. For the sixth year in a row the Lang Family, consisting of current Madison College student Brandon Lang, 27, his brother and former student Dustin Lang, 22, and their father Mark Lang, 57, have worked hard to convert their home into a haunted house for the public, free of charge.
Even in the light of day, the place looks terrifying. This year they have an incredible hospital themed venue that starts in an eerie, blood red waiting room, winds through rooms reminiscent of your worst nightmares and eventually leads you out to a corn maze and a clown tent in the backyard… if you make it that far.
What would inspire a family to convert their entire garage, yard and house into a chamber of terrors? It all started when the brothers were in grade school and they decided to throw a Halloween party with a cardboard haunted house in their basement for the neighbor kids.
"That's what sparked it," Brandon said. But the thrill of the scare isn't all that has kept the Lang Family motivated to continue to expand the place each and every year. In fact, what lies at the heart of the haunt is something much more bone-chilling than chainsaws or Freddy Krueger masks: it's addiction. The Lang family uses their haunted house in efforts to raise money for The Recovery Foundation.
The Recovery Foundation is a nonprofit organization based in Dane County that supports recovery from substance abuse and helps get addicts into treatment who can't afford it. Recovery is a very personal issue for the Lang Family, as Brandon has struggled with it himself, as well as all those who volunteer to work at the House of Terror.
"Most of our helpers are either in recovery or advocates for recovery," Brandon said. They want to help bust through the stigma addicts face and support the foundation's mission to address addiction on an individual and personal level.  One of their slogans this year is "We wear masks so addicts don't have to."
"Addicts are dying and they desperately need help," Brandon added.
The family works tirelessly year-round to gather material, fundraise and acquire sponsors, and this is the first year they haven't had to pay out of pocket.
"Eventually, we are looking to expand outside of the house," Mark said.
With a little more support from the community in the upcoming years, they just might be able to reach that goal.
For all the time and energy they invest in building and making the haunted house possible, they don't ask anything in return, except that you come through and get scared.
"Our main goal is to keep it free," Brandon said.
The only profit they keep is from their merchandise (wristbands, beanies, t-shirts and sweatshirts), which they use to help fund the next year's setup.
While donations for The Recovery Foundation are highly encouraged, the family's goal is ultimately to raise awareness about addiction and provide a fun Halloween experience for the community.
"We aren't here to make money," Brandon said. "We're here to share our passion."