Show & Tell
Faculty demonstration artwork on display this month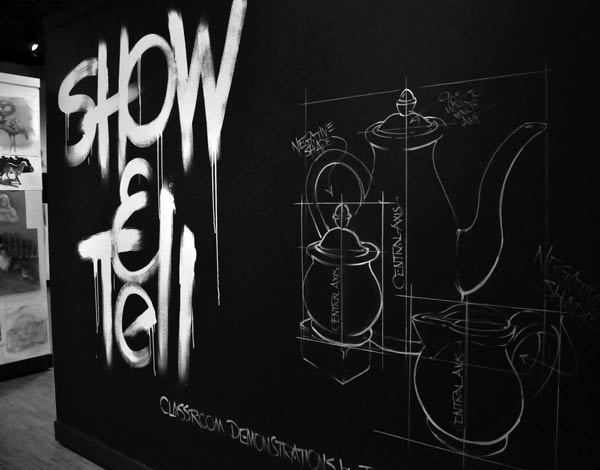 Featuring hundreds of illustrations completed over the past three decades by the graphic design and illustration faculty, Madison College's gallery hosts its instructor art exhibit, "Show and Tell."  The exhibit opened with a reception on Sept. 12 and will be on display throughout September. The gallery is open to Madison students, faculty, and guests, free of charge.
The art exhibit features hundreds of drawings, illustrations, and graphic designs created primarily by each member of the illustration faculty: John Ribble, Chris Gargan, John Andrews, and Jim McKiernan, as well as artwork done by animation instructor Ed Binkley, and graphic design instructors Diane Neukirsch, and Michael Kress-Russick.
The theme of the show is in the title itself: "Show and Tell."  It's the effort and result of thousands of demonstrations shown to students and the value of it to both artists and audience alike.   
The gallery is an added bonus to Madison College's new Gateway, with its grand opening last fall.
"We've been asking for this exhibition space for the past 35 years," said Chris Gargan, instructor in the graphic design and illustration program, "and not just as an art gallery, but an exhibition space for people from different disciplines to showcase what is it they do, to showcase professional work for which students aspire to create in their real lives. Behind every exhibit is an educational purpose to allow students to take what they see and apply it to their possible career goals."
"I'm very excited," said John Ribble, an instructor of drawing fundamentals for the past 32 years. "It's a wonderful gallery, not just for art, but for showcasing what we do. I hope that our intended audience sees the level of professionalism in our program and the range of different media, approaches, mediums, styles, and subject matters represented in each piece," explains Ribble. "Many art professors from art programs around the nation just show the students a painting and expect them to copy it. Here, we focus on the step by step process and demonstration in order for both educational and professional development in each one of our students, and that is what our exhibit shows."
 The gallery committee plans on showcasing a new theme periodically, in order to exhibit work from several different disciplines.
"We are hoping to change the exhibit every month or six weeks," says Wendy Franczack, member of the gallery committee and employee of the School of Business of Applied Arts. "Next month, the title of our exhibit will be 'Celebrating Wisconsin Manufacturers' and the opening reception will be on Oct. 17, from 3 p.m.-7 p.m. For now, it's still our first academic year with the gallery, so we'll just take it month by month."
Several students, faculty, and guests attended the opening reception, including President Jack Daniels.
"This exhibit is outstanding," said Daniels with a smile on his face. "The purpose is for the public to see what happens in the classrooms, the range of diversity that is shared, and really just showing the work excellence of what has been done."
All four illustration faculty members were present, happily sharing their artwork and answering any questions guests had.
Ed Binkley, instructor in the Animation and Concept Development Program downtown, featured his 3D digital artwork on a monitor in the gallery.
"I recorded myself drawing it on the computer and then sped it up, creating an 8 minute video for a piece that took 45, which is called a monitor lapse. In our program, we place emphasis on speed techniques, essentially on productivity and quality," he said.
The intended purpose behind the exhibit is to essentially reveal what goes on inside of the classrooms. This not only includes final pieces, but more importantly, it displays the process of working on drawing, painting, and illustration both on paper and graphically.
The alignment of the gallery is very intentional as well, with each wall dedicated to one of the seven previously mentioned artists. Nick Loveland, print employee at Madison College, played a major roll in the placement of each illustration, along with the lighting and design implemented into the Show and Tell. "We'd be lost without him," remarked Ribble lightheartedly.
The timing of the Show and Tell Art Exhibit was also very intentional. Ribble will be retiring at the end of this Fall Semester, and the art exhibit was "very pressured, and put together quickly to honor him and the time he has dedicated," says his long time friend, colleague, and fellow artist Chris Gargan. Ribble was both honored and grateful for the experience and opportunity to see years of hard work and dedication finally displayed.