Campus Fun Day let students be kids again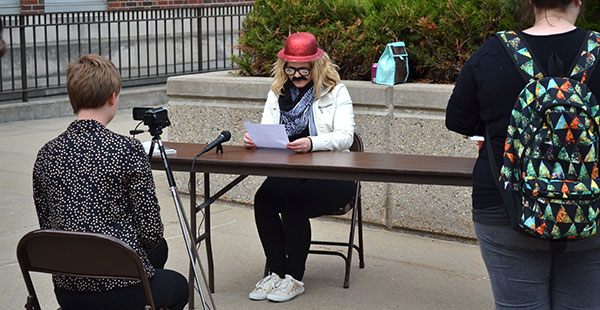 With so many activities, from so many different clubs and organizations to choose from, there's no way a student could leave empty-handed and without new contacts. Campus Fun Day was held at DTEC on September 17 and Truax on September 19.
Emilie Benisch, VP of Fellowship for Phi Theta Kappa said, "I think people really enjoyed it from what I saw, just playing the different games. We had a game where you name a fruit or vegetable beginning with a letter [that participants draw at random]; the easiest thing, people suddenly couldn't think of any fruits or vegetables."
It's an event where you get to act like a kid again – playing games and having a laugh from being put on the spot.
"Just seeing people excited over the toys and the candy, and the tickets – people really wanted their tie dye t-shirts. It looked like a lot of people had fun and enjoyed themselves," said Benisch.
Students earned a ticket from each activity they participated in. When they accumulated three tickets, they were able to redeem them for a t-shirt to tie-dye on site.
There was an array of activities to choose from.
For instance, you could test out your "Anchorman" (or woman) skills with Madison College's news publication, the Clarion, for a chance to win a $25 gift card, or you could finger paint with members of the Yahara Journal. The Executive Leadership Team had a version of Plinco, the Student Senate was in attendance with a Ladder Game, and the Chess Math Club coordinated a life-sized game of chess.
The MLT Electrolytes had a ring toss activity, Geology Club ran Bingo, the Asian American Student Association had Asian Ball Tossing, the Madison College Socialist Club had Radical Trivia, the Student Occupational Therapy Association had "How Adaptable are You?," the Student Association Electron Microscopists did a "Guess the Image" activity, and the Madison College Nerds of the Round Table held a game of Jeopardy: Nerd Edition.
Other clubs involved include the Native American Student Association, Orgullo Latino, the Madison College Risk and Insurance Club, the Black Student Union, the Student Nurses Association, the World Student Association, Flex Jam Fitness Club, Circle K, and the Recreation Autism Group.
A free lunch was provided. Students had the choice of a hot dog or a veggie burger, and a beverage.
The Programs and Activities Council (PAC) provided a caricature artist free-of-charge, and hired a DJ for your listening pleasure.