Bands 'Marriages' and 'Bosnian Rainbows' bring great sounds to The Majestic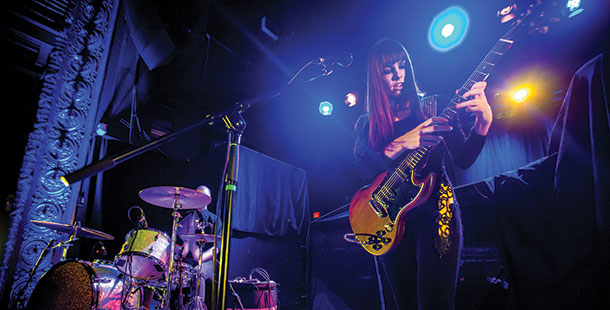 Some of the more unique sounds in non-mainstream music are in the most undiscovered places. Two relatively new artists, Marriages and Bosnian Rainbows, came to the Majestic Theatre to a considerably small crowd. The night was filled with hollow light beams, smoke and crazy dance moves by the artists; a great way to make their show both memorable and enjoyable.
A lot of Marriages' style comes in the form of mellow, harmonic guitar and strong vocals. They combine to form a sound that are reminiscent of Beach House or Animal Collective, but in a much more grounded way. The band uses some form of electronic aid, including synth, to help push the spiritual-feel their music gives off.
The real soul-moving music had to have been from Bosnian Rainbows, however. Their performance was quite the spectacle, with the lead singer, Teri Gender Bender, moving all over the stage in what had to be an interpretive crab-dance. The music was very moving, however, with powerful guitar work by Omar Rodriguez-Lopez. The abstract guitar pushed the music over the edge, alongside Teri's powerful vocals. The show ended on what had to be a perfect note, with the most subtle display of voice depth that could be performed. No longer using her microphone, Teri took over the room for just the final few minutes.
The two shows overall were very captivating and powerful. The sets were standard, and yet extremely transcendent at the same time. Something not always expected from newer bands. It should come as no surprise to see these bands in the billboards over the next few years.
Marriages, a California-based band made up of band members Greg Burns and Emma Ruth Rundle, from Red Sparrows and Nocturnes, respectively. The bands vocals are melodic and dreamy, much to the credit of Emma, who is the lead singer for the band. Their current album, "Kitsune," released Spring 2012, has been their primary set-list for the last year.
The band has also been touring with two new unnamed songs. "It's a secret," Emma said.
Marriages originally formed in Fall 2011, after Greg moved to Los Angeles.
"I had some friends that moved out from New England that played in a band called Isis," Greg said. "They're no longer around, but when they moved out we started a band called Red Sparrows. After a number of years, Emma joined, and that's how we know each other."
Bosnian Rainbows, however, is a joint effort from Rodriguez-Lopez productions and a branch effort after The Mars Volta released their sixth and last studio album, putting them into hiatus.