Chef series features baker
Artisan baker Greg Wade was first guest of 2023
The first Chef Series event of the spring semester was held on Tuesday, Jan. 24, featuring Greg Wade, a Chicago-based artisan baker and the Managing Partner at Publican Quality Bread.
The event featured a live chef demonstration and an interview with Chef Series host Kyle Cherek. Cherek is a historian and food essayist, now in his eleventh year of hosting the Emmy Award-winning television show Wisconsin Foodie on PBS.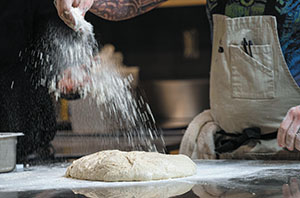 Wade, a New Berlin West High School graduate, is the recipient of a 2019 James Beard Award for Outstanding Baker. Wade now oversees production at Publican Quality Bread.
Vice President of Corporate and Regional Affairs Bryan Woodhouse said it was very interesting to hear Greg's story and learn about his roots with Little Goat Bread and now Publican Quality Bread in Chicago.
Woodhouse, who has been involved with the Chef Series since its inception in 2017, said, "Mr. Wade was extremely generous with his time as he came to the college early in the day and did an in-depth demonstration for the Madison College baking students in their lab. They loved it."
The participants were treated to an inside look into Wade's preparation and practice.
"Greg Wade's talk and demonstration were amazing," said Woodhouse. "He is one of only a few bakers that we have had in the series, so it was very interesting to see his style and the in-depth advice he was able to give the participants on how to properly prepare for and bake some excellent sourdough."
Participants were also very excited to receive copies of Greg's new book, "Bread Head," filled with fantastic recipes and notes.
In addition to Woodhouse, there were many people behind the scenes coordinating the event, whether it was with food preparation, audiovisual, registration or marketing. Woodhouse credits Suzanne Daly, Program Director for Baking and Decorative Arts (BDA), and Cheryl Halle, Faculty in BDA, among others.
This was only the second live event the college has produced since the pandemic's start. The college had Chef Andrew Zimmern visit in Sept. 2021, which was hosted in the Madison College Fire Bay. Tuesday's event was the first event back in the Culinary Demonstration Kitchen.
Madison College will have one more live event this season. On April 6, pastry chef Zoe Francois will visit the college.