Student designers embrace imagination, sustainability
Fashion marketing program hosts its sixth annual show
December 8, 2022
For most people, thrift stores like Goodwill are dumping grounds for old clothes and a way to make space in their closets. For Madison College fashion marketing students, the real value of thrift shops is igniting their creativity, upcycling vintage garments and giving them new life.
Fashion students, showing off upcycled outfits, paraded down a runway in front of the audience on Nov. 21. The runway was part of the sixth Annual Fashion Show, titled "Embrace Your Imagination," presented at the Truax Campus. The event included remarks from guest speaker and international fashion designer Therese Marie.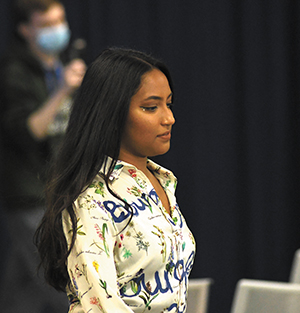 The runway show was a journey of thrifting, reconstructing and sustainability mixed with swathes of vivid colors and contrasting textures.
The students emphasized sourcing existing material and compressing their carbon footprint using salvaged yardage, vintage curtains or throwback gear for their creations.
Among the themes, the audience had a front-row seat to casual and revived Goth to country chic. Students also paid homage to the French Revolution, abstract art and global diversity.
The upcycled outfits came from Goodwill, St. Vincent de Paul and local charities.
Afterward, the global designer and Wisconsin native Therese Marie shared her experience as a designer and advised the fashion marketing majors. In a discussion moderated by Fashion Marketing Program Director Betsy Hurd, the fashion designer reflected on the newly created collection and praised the students. She talked about how she became inspired by thrift stores and the ideas she developed from combing such shops.
Six months later, Marie learned how to sew and enrolled in fashion school.
By sharing funny stories from her early days of designing, Marie quickly pointed out that her trajectory to success wasn't overnight.
Marie reflected on how unanswered emails encouraged her to return to the drawing board, helping to refine her skills.
She mentioned that it also helped her to have thick skin and a strong sense of self.
"Never be intimated by any designer (or) any other look. I would be so afraid if I knew a certain designer was at the show. You have to start learning what makes you strong and be proud of whatever you put out."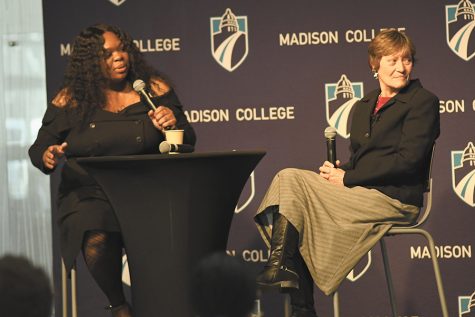 Marie shared how she overlooked her minor sewing mistakes, like seams coming off or uneven heels, to boost her confidence. Toward the end, Marie looked around the room and, noting many of the younger audience members, touched on social media.
"Never worry about what anybody is doing on social media. That is not what drives you. You drive yourself. Keep finding yourself. What can I do better? How can I be the best at what I'm doing?
She encouraged the students to continue attending classes and lectures to improve their skills and career development.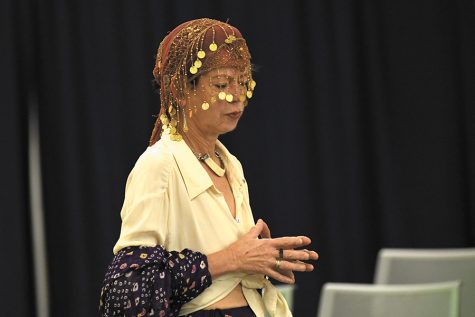 Editor's note: Fashion design students participating in the show included Nisse Rosholt, Krystyna Kalies, Anne Everywhere Hahm, Mary SeGall, Shahayra Majumeler, Shehide Munishi. Lily Depauw, Oliva Voelker, Owen Kress-Russick, Amanda Neumaier, Mikayla Bechman, Josephine Morris, Frances Jung, Mason Douglas, Jaeli Murray, Cianeishly Rosado, Magdalena Ayasa Biloga, Emily Bender, Adrian Ajdini and Josie Shiraz. The fashion show is a collaboration between Fashion Marketing, Barber Cosmetology, Photography and Visual Communications Program. For more information on Madison College's fashion marketing department, visit https://madisoncollege.edu/academics/programs/fashion-marketing.