MEET THE PACK
Saxon LaFlash & Kelly Kubicek
MEN'S SOCCER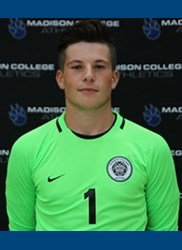 The starting goalie for the Madison College men's soccer team, freshman Saxon LaFlash has posted four shutouts this season for the 7-2 WolfPack. He has allowed 11 goals in 35 shots for a goals-against average of 1.68.
A three-time letterwinner in soccer ad Madison Memorial High School, he was named the team's most improved player his junior season. As a senior, he was named team captain and earned honorable mention all-conference honors. The son of Jason and Lisa LaFlash, he is enrolled in the college's transfer program and hopes to study architecture.
WOMEN'S SOCCER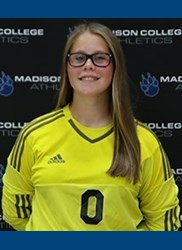 A freshman on the Madison College women's soccer team, Kelly Kubicek has started all eight games in goal for the 7-1 WolfPack. She has allowed just five goals in 35 shots and has posted six shutouts. Her goals against average is 0.64.
Kubicek was a four-time letter-winner in soccer at Oregon High School. Her high school team qualified for state four times during her career, winning the title in 2015 and finishing as runner-up twice.
The daughter of Robin Kroyer-Kubicek and Dan Kubicek, she is a web and digital design major.