GLEAM puts art in a new light at Olbrich Gardens
October 12, 2021
Glimmers of light pierced the dark blanket of night that rested upon the garden, drawing curious eyes to each exhibit. Sounds of wildlife, crickets, music, conversation and laughter drifted through the air like smoke. It was yet another Wednesday night at Olbrich Gardens' GLEAM.  
GLEAM is an annual art exhibition that takes place Wednesday, Thursday, Friday and Saturday nights at Olbrich Botanical Gardens in Madison, Wisconsin. At GLEAM, artists from across Madison, the country and the globe showcase their light-based art installations. This year, GLEAM will be available to the public until Oct. 30.  
Creating The GLEAM Exhibition 
The GLEAM exhibition began in 2015, three years after staff from Olbrich Gardens visited the Franklin Park Conservatory in Columbus, Ohio, and witnessed artist Bruce Munro's work. The use of light-based art in a botanical garden setting — something not yet seen in the United States at the time — inspired the idea for GLEAM.  
Special Projects Manager at Olbrich Missy Jeanne speaks fondly of the exhibition.  
"A botanical garden creates just a fantastic setting with all of the flora and fauna to highlight with lights. I mean, just the gardens alone with our regular landscape lighting that we have here at Olbrich is a spectacular experience all on its own. And then, so to add the art installations on top of that just really creates something special," Jeanne said.  
She notes that some installations this year are more interactive and flashier, while some are more subtle and require viewers to take more time to enjoy not only the art but also the garden in which the art is placed.  
"I just feel like so often people these days are in a rush for what's next and just taking the time…to enjoy the natural setting of the gardens at night is such a wonderful experience in itself, you know? It's a wonderful base for building the exhibition every year," Jeanne said.  
To allow artists time to develop and "dive a little bit deeper" into the ideas behind their pieces, GLEAM's 2022 exhibition will be scheduled almost a year in advance. In just four weeks, Olbrich will start to reach out to next year's artists.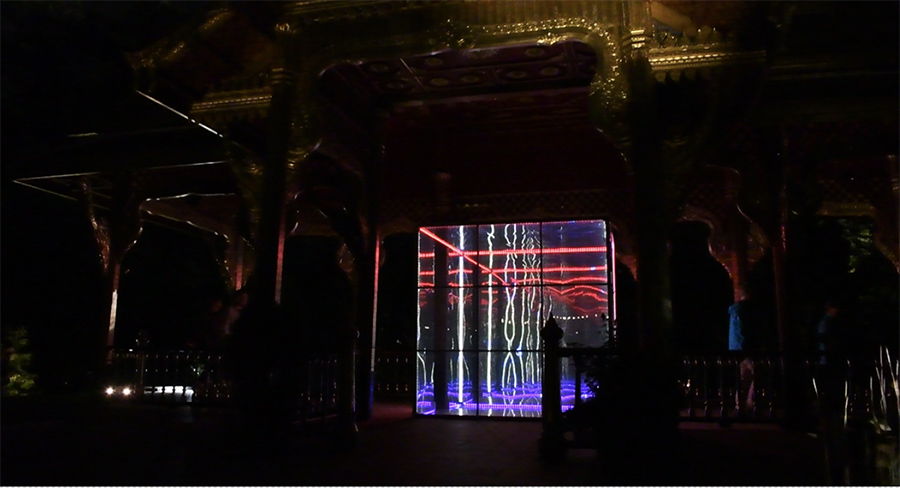 Jeanne said that Olbrich does their research and puts calls out for artists whose work consists of primarily light-based art. From there, artists submit installation proposals which are then evaluated by Olbrich's programs and exhibits team, horticulturalists, art curators and professional light designers.  
There are certain guidelines that the installation proposals must follow. They are:
—Light is the installation's main component.
—The installation is structurally stable.
—The lighting used in the installation can withstand outdoor conditions.
The ability to interact with the installation and what angles it can be viewed at are also taken into consideration. After determining which installations will be included, Olbrich works with artists to figure out where to place them within the garden. Figuring out where to put the installations depends on what the garden can offer in relation to their footprint and what spots the artists can propose.  
"So sometimes a concept is very specific to a site," Jeanne said. "For example, the Tesseract artists are local, so they could come here, and they could walk around the garden, and, you know, identify where they wanted it to be. But other artists don't have that opportunity, so then we're assisting them a little bit more." 
For artists that aren't able to make it on-site to explore, Olbrich offers drone footage of the gardens and schematic drawings to assist in planning for installation set up. Jeanne relays that over the years, Olbrich has learned a lot and is now able to better provide resources to artists.  
Jeanne also makes mention of the fact that many people don't realize that the programs and exhibits that Olbrich hosts, such as GLEAM, act as fundraisers to support the garden.  
"Olbrich Gardens does not have an admission for the outdoor garden, and we have a small nominal fee to get inside the Bolz Conservatory. So all of the proceeds that come from the ticket sales…all feed directly back into supporting the gardens and keeping it free for the community."  
GLEAM 2021 
This year's GLEAM exhibition consists of many different artists and artwork installations. Viewers can walk around the gardens on a one-way path and weave their way through the exhibits, which are numbered.  
While walking through the gardens, you might notice that in addition to the main numbered exhibits, there are lettered exhibits that act as points of interest in between the main attractions, referred to by Jeanne as "way-finding" points.   
The first way-finding point is called "Windows of Life," designed by Ben Smith at Omni Technologies and Bill Wilkie at Wilkie Studio. At the next way-finding point — point B — lies "Locus Pocus," designed by Traditions Lighting.  
From there, the main exhibits begin. First up is "Kaleidoscope Aflutter," a butterfly installation designed by an artist collective based out of Australia, Skunk Control. Next up is "Night Birds," a flock of neon birds positioned in the trees, designed by Chicago-based artist Michael Young.  
As you continue towards the Thai Pavilion, the thump of music will become clearer and clearer until you stumble upon the "Tesseract" exhibit, designed by Madison-based artists Brett Adams and Bo Raasch. Past the Thai Pavilion and further into the gardens, you'll find yourself surrounded by sounds and visuals from "A Wild Life," designed by Bruce Winkler and his production team.  
Towards the end of the GLEAM path lies "Hydra Reef," designed by Jared Winchester and Cory Greenfield from Entropic Industries; two more way-finding points, "Dream Mapper" by Paul Hayden and "Around the Rainbow" by Mark Penisten; "Spectrum Swing," a ginormous, rainbow-covered swing set designed by artist Lindsay Glatz; and "Reflection" by Portland, Oregon-based artist Jen Fuller.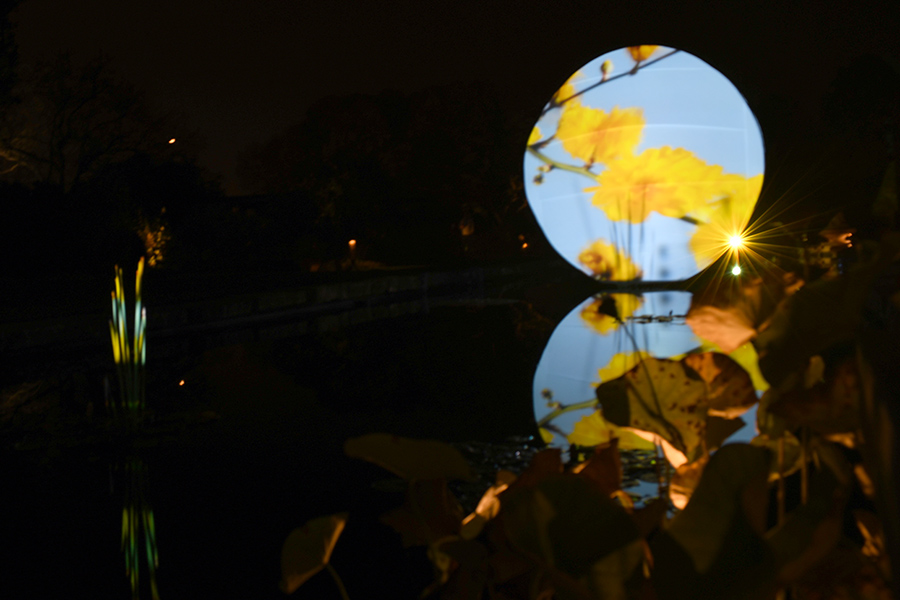 Jen Fuller and Reflection 
"Reflection" by Jen Fuller is part of a 75-foot, traditional English, elongated reflection pond in Olbrich's Sunken Garden, across from the Great Lawn by the entrance and exit. The pond itself has been dyed black to enhance its reflectivity.  
"Based on that premise, I wanted to expand upon that idea of reflections. Also, coming through COVID, it seemed a really apt concept to provide a meditation point between hope and despair because we've all been experiencing so much. So I wanted a kind of a calm, neutral experience but something that would pull at your emotions," Fuller said.  
The main component of "Reflection" is a 10-foot-tall ellipsoid made of coroplast, with a base made of steel and aluminum. It's secured in the middle of the reflection pond and reflects different visuals via projector onto the water at night. One visual is that of a flower blooming. Another is that of a bee maneuvering its way around a hive.  
"I wanted to create a project that was interesting both day and night," said Fuller. "It can't just be like a screen out in a pond. That's not interesting enough for me because I'm a physical object builder, and I'm a sculptor. So I wanted to sculpt something that was uniquely interesting."  
Another aspect that encompasses "Reflection" is the presence of an audio component: different snippets of music that accompany the visuals. Fuller's decision to add music to her work was prompted by her synesthesia.  
"When I say synesthesia, I mean I hear my sculptures as I'm making them, which is just this weird adjunct that I don't tell most people," Fuller said.  
Fuller said that "Reflection" is the first piece that she approached from an auditory standpoint. While creating "Reflection," Fuller constructed the playlist that would accompany the piece first. Then, she moved on to the visuals. Lastly, she created the ellipsoid.  
"I like to create these audio-visual, immersive environments that are thought-provoking and really pull at emotional connectivity to humanity and the times and the spaces in which they're built," Fuller said.   
"Reflection" is Fuller's second exhibit with GLEAM; her first, a collection of glass birds suspended from a mobile in the Thai Pavilion, was from GLEAM 2019. Fuller said she returned to GLEAM for a couple of reasons.  
"I really like Olbrich as an organization…they're one of my top-favorite organizations, actually, to create public artwork for," Fuller said. "Their ethos as an organization and the way that the project is run, it's just really beautifully run by their organizers. And they really are interested in supporting and facilitating artists and allowing us to innovate in really interesting spaces."