Walt Disney World brings Star Wars Galaxy's Edge to life in theme park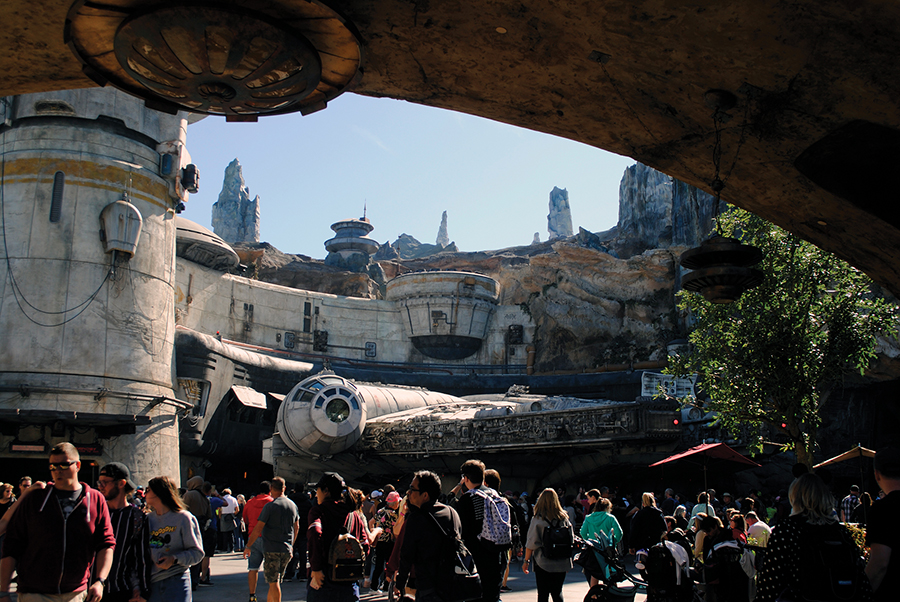 Krista Olson-Lehman, Staff Writer
January 22, 2020
Not so long ago, in a galaxy not so far away, Walt Disney World's Hollywood Studios unveiled their newest attraction: Star Wars Galaxy's Edge.
Galaxy's Edge recreates the world of "Star Wars" and the "Black Spire Outpost" for fans of the "Star Wars" movie franchise and anyone with a sense of wonder. With notable spots such as Oga's Cantina on-site, you can wander the same sites that characters from the movies did.
"Smuggler's Run" allows visitors to help drive the Millennium Falcon. "Smuggler's Run," an amazing ride with dizzying special effects, is not for the faint of heart or the weak of stomach. Before going in, ride attendants brief riders on what responsibilities they have for the trip. Things become harrowing for riders while they flip in all directions, buttons light up, and alarms go off. The ride is as close as a person can get to the feeling of riding in hyperspace.
There are plenty of food options within Galaxy's Edge, and each option has an appropriate theme. Ronto Roasters features animatronic droids that roast Ronto meat under a pod racing motor. Along with Docking Bay 7, Ronto Roasters offers counter service eats. If you can't get into Oga's Cantina for a refreshment, you can buy the signature blue Bantha milk at the milk stand.
The market merchants offer wares of all sorts for the souvenir hunter. Dok-Ondar's Den of Antiquities offers plenty of interesting shopping options; it also features décor and sights straight out of the Star Wars movies. Dok-Ondar supervises daily operations from the back of the store.
Picture opportunities abound with movie characters such as Chewbacca and Rey. Storm Troopers wander around to question guests and make sure everyone behaves in a way that pleases the supreme leader.
Important tips: make sure to get in the digital Queue for "Rise of the Resistance" online or via the Disney Experience app. Make reservations at Oga's Cantina to enjoy those attractions because spots fill up quickly. "Smuggler's Run" can also have long wait times, but is more likely to be available during a visit. There is another ride called "Star Tours" that is not as busy.
For the ultimate souvenir, you can visit the Droid Depot and Savi's Workshop. For $199, you can buy a personalized lightsaber from Savi's Workshop. Many visitors wield their lightsabers later at night once the sun goes down. At the Droid Depot, 99 dollars gets you a fully customized BB or R series droid, complete with a remote control.
At 8 p.m., the front of the Chinese Theater in Hollywood Studios becomes a movie screen for "Star Wars: A Galactic Spectacular." Scenes from the "Star Wars" movies project onto the theater while timed fireworks and pyrotechnics complement the show.
Galaxy's Edge delivers an unforgettable experience for any "Star Wars" fan.