Porta Bella's ambiance makes for a romantic evening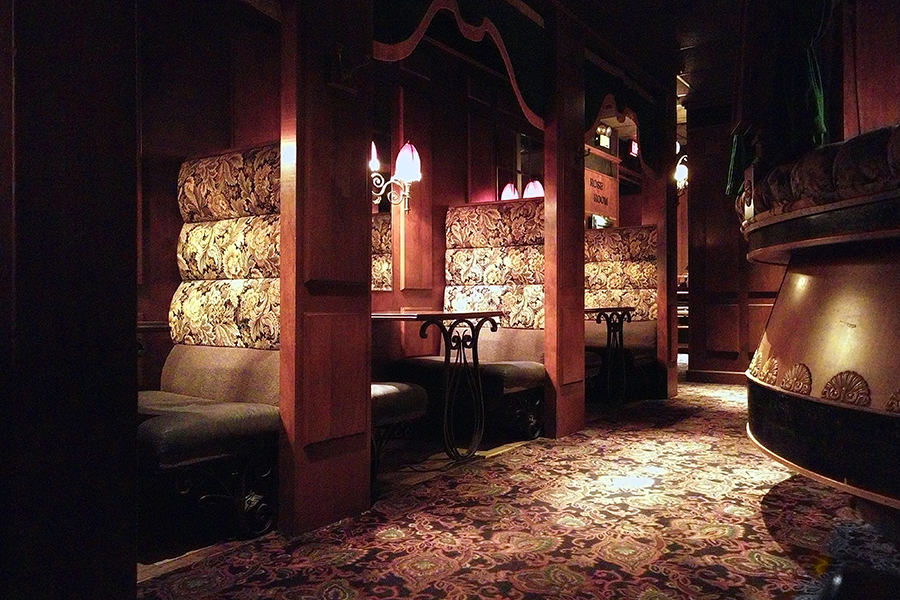 Krista Olson-Lehman, Staff Writer
November 27, 2019
Porta Bella is a Madison favorite among Italian restaurants. Located off State Street on Frances, it is directly across from a parking ramp and easy to walk to from the State Street bus stops. The Wisconsin State Journal listed Porta Bella as one of the "five great restaurants for a romantic dinner in Madison," and I heartily concur.
Porta Bella was established in 1968. The atmosphere is extremely cozy. Near the host stand, one can see the bar behind glass windows. The rich, dark wood paneling projects a delightful ambiance. The dining areas separate into three rooms; plush upholstery and distinctive round booths encompass the Rose Room. Another room has wooden booths, dim lamps and mirrored walls. The dim lighting and tall-backed, wooden booths provide a feeling of intimacy. The walled-in garden patio is perfect for warm evenings. The restaurant also has a wine cellar bar where you can enjoy the extensive wine list.
Porta Bella has house wine and sangrias available at $8 per glass. An extensive wine list and tap beer list are also available, as are craft cocktails such as the 'Wiscosmo,' a Wisconsin twist on the Cosmopolitan.
Fresh, hot bread comes with every meal, along with butter and a traditional 'spicy' oil that contains red pepper and garlic. Balsamic vinegar and oil for bread dipping are available upon request.
Entreés come with a choice of soup or salad. I highly recommend the porta salad. A tradition of Porta Bella and its sister restaurant Paisan's, the porta salad is a heaping portion of ham, salami, garbanzo beans, cheddar, and mozzarella cheese. In my opinion, it pairs best with the Italian dressing.
There are plenty of authentic Italian appetizers on the menu. The spinach artichoke dip is delightfully cheesy, and the stuffed mushrooms are hot and well-seasoned. Porta Bella's menu also offers calamari, toasted ravioli, pizza, and sandwiches. Sandwiches are $10 and pizza starts at $16 for a small (10"). Entreés range from $19.75 to $30. The menu fits nicely into a mid-range of restaurant prices around Madison. I consider it a good deal for the ambiance, the quality, the taste of the food, and the attentive service.
During my time at Porta Bella, I tried the manicotti with Bolognese sauce. It did not disappoint. The portion size was more than generous, so I had leftovers to bring home. The Bolognese sauce was extremely meaty and flavorful, and it came piping hot with melted baked cheese on top.
My companion had the beef and portabella mushrooms in gorgonzola sauce. The sauce was mild but delicious, with hints of gorgonzola and garlic. It came with a large amount of baked cheese, perfect for our Wisconsin sensibilities.
After our main course, we were too full to try anything on Porta Bella's dessert menu. I noted that Porta Bella offers traditional Italian tiramisu, a personal favorite of mine. Dessert wines and after-dinner cocktails are also available.
Our server was extremely polite and attentive. She was always there to refill our drinks before we ran out. Because we went late on a Sunday night, the restaurant was not overly crowded.
I rate this restaurant a five out of five. The ambiance, the food quality, and the service are exemplary. Porta Bella is perfect for a romantic dinner; it also provides a great atmosphere to get together with friends or family, as the large circular booths can accommodate larger parties.