Madison College Mobile: An app that helps you learn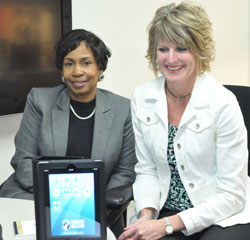 Photo Credit: Shia Fisher
Shia Fisher, Staff writer
March 6, 2012
Filed under News
Andrea Deau, Director of Academic Services and a team of developers have done the research and are launching the schools' mobile app for Blackboard. The launch will be the first phase of Madison College Mobile that will potentially strengthen the opportunities for engagement using Blackboard Learn module as another window to view class content.
"Having been a teacher in my past life, if you can increase students interest in what they are doing, that can really increase their success rate," Deau said.  
Deau's department team has the plan of enabling Blackboard Mobile Learn app for the use of students and faculty on Android and iOS platforms March 19.
"I think there is opportunities for engagement and increased engagement can contribute to higher success rates," Deau said.
Several students surveyed in the spring of 2009 advocated mobile communication with Blackboard Learn. Results were brought to the Unit Planning Process. Initial funds were generated August 2011, and the mobile module integration had begun.
"It is like that from funding to implementation … it's been a rapid turn around," said Gwen Jones, marketing manager for the colege.
The name Blackboard is used on a daily basis, the mobile app will be called Madison College Mobile. Android or iOS users will have access to nine modules including a Blackboard Learn module. Blackboard's Learn module is consistent with Madison College's Blackboard Learn site seen online. The other eight modules, although not available for Blackberry devices, are: athletics, events, library, maps, news, videos, social and emergency.
Deau and her team of developers are exploring the option of adding class enrollment or withdrawal. Madison Metro Bus, Madison College shuttle transit real-time tracking and other convenient modules are also within the realm of possibility.
Deau refers to Blackboard Learn as a "virtual classroom" providing a portable method to view school information. Blackboard is a tool that all teachers use and the extent is dependant on the teacher's own preference.
"I do not see how faculty won't be inspired to use Blackboard more," Deau said.
The school has used Blackboard for over 10 years and upgraded Blackboard software last semester. The app is free and can be downloaded in app stores on mobile devices.
The college spends approximately $70,000 annually for Blackboard Learn online use alone and that mobile access would add about another $50,000 annually. Much of that money goes to the technicians, phone operators, support teams, Blackboard trainers and Blackboard employees.