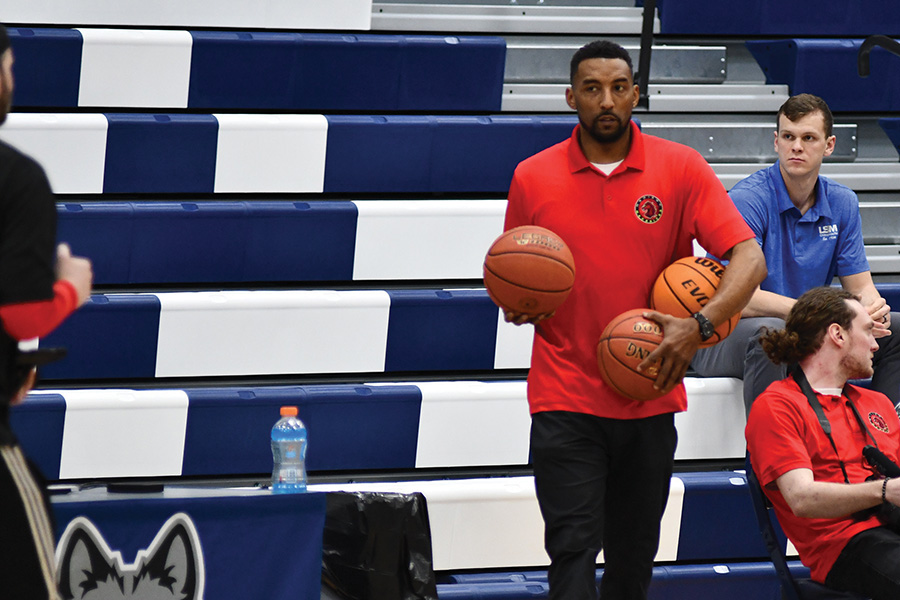 Luis Alcala Roblero
Semi-professional basketball is now in Madison. The Madison Mavericks are in their second season, playing in the North Central division of the Official Basketball Association. There are over 50 teams in the organization across the country.
The team plays 16 games in the regular season, many of them back to back. Home games are played at Madison College, where many of the Mavericks have connections.
One of those ties is Roy Boone. He's been involved with Madison College for a long time. Back in 2016, he joined the men's basketball coaching staff. In just two years with the WolfPack, he moved into an associate head coach position.
His love for basketball is lifelong, and his connections to Madison run deep. Boone graduated from East High School as a star player. After two years of basketball at a Division I junior college, he came back to Wisconsin to represent the Badgers. During his time there, the team made it to the Final Four and he was named to the Big Ten All Conference team. His playing days didn't stop, as Boone continued to play professionally both in and out of the U.S.
The idea for the Mavericks came from Tamara Moore. Moore is a former Badger and WNBA player. She now coaches at Mesabi Range College in Minnesota as the only woman head coach of a men's program.
The idea excited Boone, so he joined on as an owner.
"I just wanted to keep creating it and keep building it and I was enjoying it," he said.
But owner isn't his only role. Boone does a little bit of everything.
"It's a role with many hats so I'm a player slash owner slash driver slash everything," said Boone.
Even though player is one of his roles, he's starting to spend more time off the court than on it.
"We got some new players so we got some good talent so I'm going to sit back and watch these guys, see what they do," said Boone. "I think things are growing, so now I'm doing more things behind the scenes on the business side."
Home games during the first season were played at Warner Park, mostly due to COVID-19 restrictions. But it was always Boone's vision to host the team at Madison College, calling it the "mecca of basketball."
Having the games at the college shines a spotlight on the school, something Boone finds important.
"There's opportunity to get more kids in here to see the school and maybe they want to look at programs or maybe they now they just know Madison College exists," Boone said. He added that keeping a connection to the east side of Madison is important to him.
Plus, it makes high level basketball more accessible to the community. While there's a lot of high profile basketball in Wisconsin with the Badgers and the Bucks, the Mavericks have something special.
"It brings another program that kids could come that maybe can't get to the Bucks game or can't get to the Badger game, but love the atmosphere and safe environment and being around pro athletes," said Boone.
One way that the team is more accessible is that kids 17 years old and younger get into the games for free. And there are fun half-time events for kids as well. Sometimes it'll be youth or AAU teams playing, or it'll be some type of skills contest. Boone says this is great, especially since some of the kids really look up to the guys on the Mavericks.
And one of those team members has ties to the WolfPack.
Stavon Staples, a guard for the Mavericks, represented Madison College in 2016-17. He played during Boone's first season coaching at the college.
Staples said that he'd take any opportunity to play basketball as long as possible, and joining the Mavericks gave him that.
"He was always like one of the guys I always knew I wanted to be a part of it, you know, and it just so happened, it was all that Madison College," said Boone about Staples involvement with the Mavericks.
And Staples sees the Maverick's impact on the community. Kids he's never seen before recognize him out in public. But he sees the impact even more up close and personal.
"My son, for example, I asked him if he wants to play for the Lakers. He said no, he wants to play for the Mavericks," said Staples, adding that it gives kids something to look up to.
The team doesn't just provide opportunities for players to keep doing what they love, Staples says it's something that the city needed.
"It gives, you know, the local people something nice to watch or something to do…and it has a pretty good buzz around the city so I think it's great for the area," said Staples.
Boone and Staples both have similar goals for this season: making it back to the championships. The team made it during their inaugural season, falling in the national semi-finals.
Staples has some personal goals like making the All-Star Team again, but his objective is to "ultimately, get a ring for the team for the city."
The team is in action at the school April 23, May 7, May 14, June 4, June 11 and June 25. Saturday games start at 5 p.m. with Sunday start times at 4 p.m. Admission is $10.