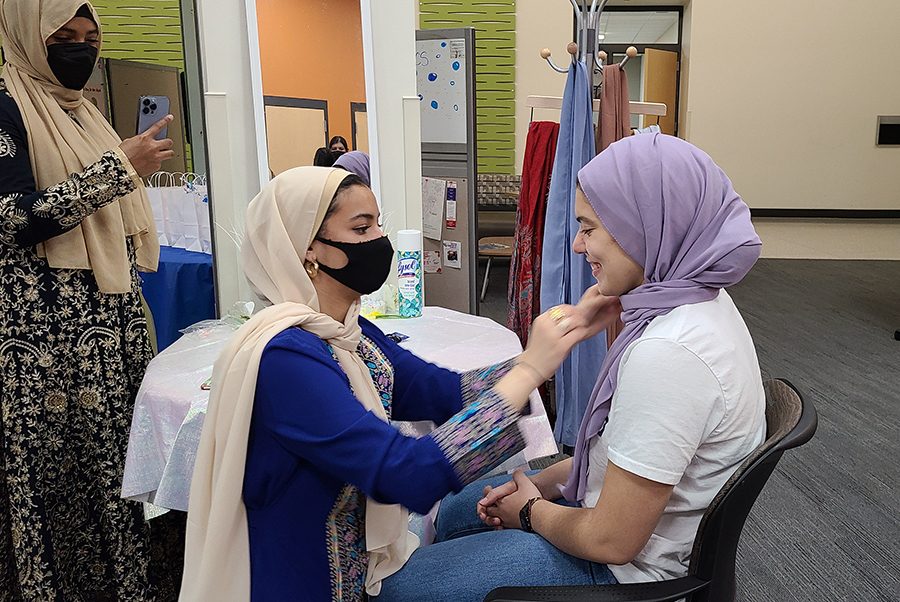 Iman Alrashid
United Common Ground brought different cultures together again with a unique, fun event called "A Day In Her Hijab."
Students from different countries, cultures and religions were working together to make this well-organized event on Nov. 18 a good opportunity for the attendees to learn about an important part of Islam, the hijab.
Ghaida Edris, a student at Madison College, proudly shared some of her religious and cultural traditions. Edreis is a young Muslim lady from Libya who had a dream since she was a little girl to spread the knowledge about Islam and help non-Muslim people to get to know what Islam is.
The smell of the Arabic food mixed with the Arabic music created a cozy environment that made everyone feel welcome.
Edreis was helping those who were curious to try the hijab on. She wanted people to get to know what the hijab means to Muslims and why Muslim women put it on.
"I hope people get to know all Hijab; I hope this will be eye-opening to get to know what really hijab means to Muslim women," Edreis said.
Edreis was grateful that Madison College gave her the chance to share some of her knowledge about Islam.
"I feel so proud now how Madison College represents the Muslim community," Edreis added.
Diya Basima is another Muslim student at Madison college who created an amazing spirit all over the place with her warm smile and her love for her religion.
Basima's reaction to the event was super positive.
"I'm so happy everyone likes the food and likes to try al hijab," Basima said.
Madison College recognizes and respects the differences that shape the world's view.