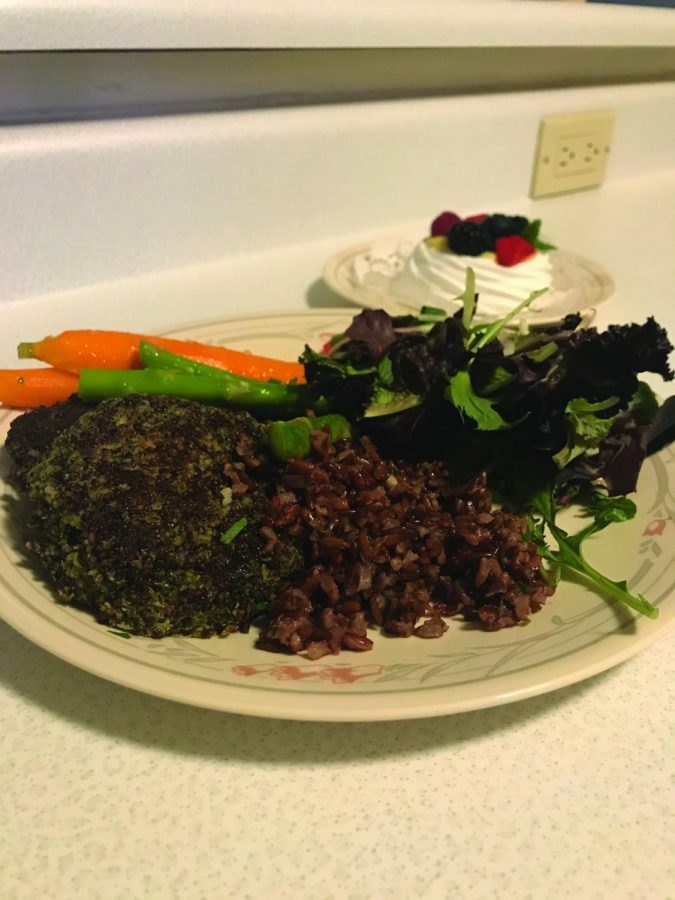 Kaleia Lawrence/ Clarion
It's not always easy being a college student and finding some good food to eat for a reasonable price. However, through Madison College's Food Services, this is possible.
There are a couple of different options when it comes to what kind of food is available, and it changes weekly. Right now, some of the items available are meal kits for two, an easter charcuterie board and tamales, just to name a few. All of the kits are prepared by food service staff, not by students in the culinary program.
The meal kits are $20. This seems like a lot, but considering it's a high quality, three- course meal, it's worth it. Plus, if you split it with someone else, you'll only be paying $10 for a filling meal.
My meal kit came with a spring green salad with champagne vinaigrette, toasted quinoa-broccoli fritters, red rice pilaf with roasted garlic and shallot, brandy-maple glazed baby carrots, and asparagus and Schaum torte with lemon curd and fresh berries.
Ordering can be a tricky process, so make sure that you follow the steps very carefully. Go to the main Madison College website and type "food and dining" into the search bar. Select the first result, then click on the "Curbside Meal Kit service." Once you pick the items you want and are checking out, make sure to select the pickup at Anderson Street. Although there is a disclaimer that you'll have to select this option, it's easy to miss it and select your campus instead. Pickup is only available on select days at certain times, so make sure it fits your schedule.
Since ordering is done through the Bookstore, the service is only available to Madison College students, staff and faculty. However, it will likely be open to the public at a later date.
It's been two months since the start of the service, and business is doing good.
"Well, I would say that we weren't at all sure what would happen in the beginning and so it was a little slow to start. But it's like this week we're all sort of scratching our heads how we're going to keep up, so it's escalated exponentially…exceeding expectations if you will," said Executive Chef of Food Services David Dorst.
As a broke college student, I don't get take-out very often. A delicacy for me is usually a Little Caesars pizza, so this was definitely an upgrade.
The food was high quality, and there was a lot of it. Although everyone's appetite is different, I had enough left over for a couple more meals.
I tried something that I've never had before, and I'm glad that I branched out. While all the flavors didn't suit my palate personally, I enjoyed trying the different flavors that were included. It was obvious there was a lot of thought in planning the cohesiveness of the meal.
I would recommend the service. You get a lot of food at a good price, and you can try new things and know that they will be high quality.