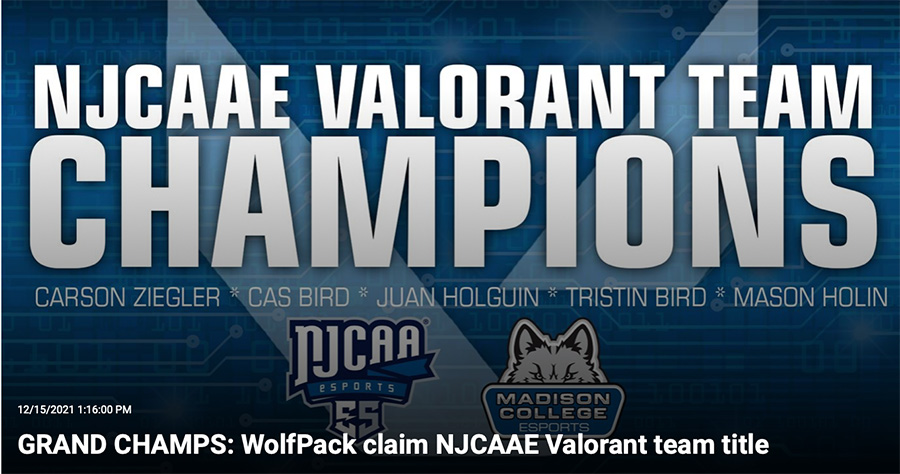 It was time to compete for the national championship and the Madison College Valorant team was struggling. The WolfPack found itself trailing behind NOVA, North Virginia Community College, with a score of 5-12.
Valorant is a five versus five first person shooter game where the winner is decided by whoever wins the most of 13 rounds. Even with a deficit like that, the WolfPack refused to back down. They took the game into overtime by winning nine rounds in a row, taking the national title with a score of 14-12.
Many different factors contributed to the win: high expectations, preparation and a strong team bond. Another motivating factor unique to the title match was the announcers.
"When they [the announcers] wrote this team off, I think it motivated them and you heard the comeback story…The other team couldn't find their footing and it was kind of funny to listen to the announcers backpedal on everything that they had just said in the previous game and flip the script on NOVA instead of Madison College," said Joe Hanson, head coach of the esports program.
Success was anticipated and achieved during the course of the season. The Valorant team completed the regular season with a record of 9-0.
"Making the championship game was more of an expectation than a goal," said Carson Ziegler, in-game leader or captain.
In order to meet that expectation, Ziegler and teammate Mason Holin organized many scrimmages for the team. Ziegler and Holin are top players in the country, granting them the rank of Immortal. This high ranking opened many doors to other esteemed players. Their connections allowed them to scrimmage against the top three women's team in the country, Lady Dignitas.
"I was really happy with our team's reaction after we won the championship game. Everyone was saying that they felt like the game was easier than a lot of our scrimmages, so we sort of prepared for the task well," said Ziegler.
Having the mental strength needed to finish the season strong was made possible with good chemistry since the beginning of practices.
"Everybody in the team was really close with one another…We all bonded very well, so there was no, like, complications in practice. If somebody did something wrong it was never like a personal attack. It was sort of like you accept it, you know. You learn from it and kind of go from there," said Holin.
Dedication from the team and coach Hanson made the debut of Valorant at Madison College successful.