Meet the Pack
Hang on for a minute...we're trying to find some more stories you might like.
Baseball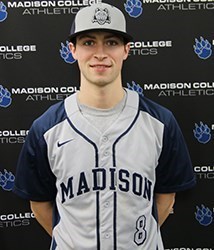 Tanner Umentum
An infielder and pitcher, Tanner Umentum is in his second year with the Madison College baseball team. This season he is hitting .281 with 16 hits in 57 at bats. He has 13 RBIs and 15 runs scored. Last year, he started 31 games and batted .281. He also posted a 3-2 pitching record with a 3.60 ERA.
A three-sport athlete at Denmark High School, Umentum participated in baseball, basketball and footbook. He was named to the all-conference team (Bay Conference) as both a junior and senior. The son of Diana and Pat Umentum, he is a liberal arts major at Madison College.
Softball

Sam Schloegl
A sophomore on the Madison College softball team, Sam Schloegl is a transfer student from Aurora University (IL), where she batted .310 and saw action in 34 games. This season, she plays outfield and is hitting .402 for the WolfPack. She has 47 hits in 117 at bats and has 21 stolen bases in 21 attempts.
Schloegl is a graduate of Wilmot High School, where she was a two-time honorable mention all conference player and team caption her senior year.
The daughter of Pat Dopke and Dan Truttschel, she is a liberal arts major at Madison College.