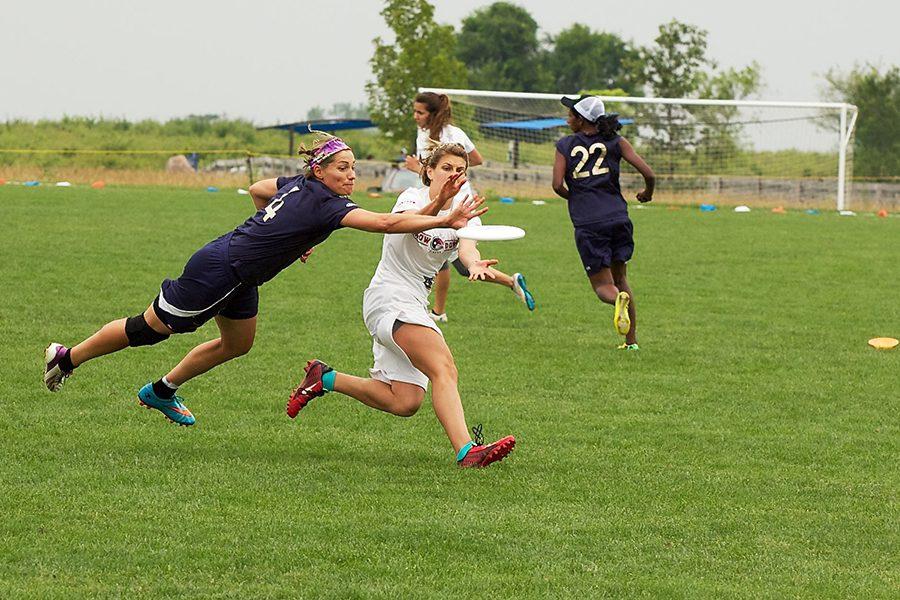 Photo Provided to the Clarion
Women should "make aggressive mistakes" and stop apologizing in order to be successful in sports, says internationally-recognized Ultimate Frisbee player Robyn Wiseman. "Women adopt a mentality where they have to apologize if they're less than perfect, but you're not going to push yourself to grow if you don't push yourself into making mistakes."
Since Wiseman began playing Ultimate at UW-Eau Claire in 2007, she has competed at Nationals several times, as well as at Worlds, where her team took Gold in 2014. She was voted to the all-region team multiple times in college and was a runner up to receive the Callahan award in 2011, one of the most prestigious awards in college Ultimate.
When describing her rapid success, she notes that, "I started playing at the right time. There weren't a lot of women's teams, especially in the Midwest . . . It was harder to find opportunities to play, but it was easier to stand out."
Wiseman, also known in the Ultimate world for her coaching and commentating presence, founded the first women's club team in Madison in 2012. Prior to the existence of Heist, Madison women had to travel to Milwaukee or Minneapolis to play high-level women's Ultimate. She felt that the timing was right and, "if the right people invested and put it together, it would be successful."
As predicted, Heist has competed at Nationals all four seasons of its existence. Over 100 women tried out for spots on the team this year. The team's presence in Madison has bolstered Ultimate for girls and women at all levels. UW-Madison now has robust, competitive "A" and "B" teams (Bella Donna and Atropa). Young girls can attend clinics and training camps for Ultimate. Women in their 20s and 30s have avenues to learn the fundamentals of Ultimate through supportive clinics, leagues, and coaching. Despite the popularity of Ultimate in Madison, none of these opportunities existed prior to Heist's inception.
Wiseman speaks passionately about the importance of women's sports. Wiseman's husband is a professional Ultimate player with the Madison Radicals. Wiseman says that she and her husband talk about the fact that Heist players fundraise in the stands to cover travel and jersey expenses while the Radicals are paid to play in front of thousands of fans. The female players put forth just as much effort as the men, but must do more to stand out and get noticed.
The disparities between resources for men's and women's teams are even more noticeable at college tournaments where Wiseman coaches. She wants the women she coaches to "feel empowered" and finds it frustrating when it is obvious that women are assigned the least desirable fields, farthest from the bathrooms, trainers, and other amenities. The women receive less attention from film crews and trainers. Occasionally, people walk by and openly disrespect the players, yelling insults and derogatory terms. She has used these moments to have conversations with the team about identity, strength, and power.
Despite the differences in women's and men's Ultimate, Wiseman sees a positive future for Ultimate. She also coaches a co-ed high school team, which she uses as a platform to talk to young men and women about equality in sports. She is excited for the future of the sport, particularly for women. One of the things she loves most about Ultimate is that "Ultimate is really the definition of a team sport. It's one of the only sports where you can't score by yourself . . . You have to complete a pass to someone else. You can't win a game by yourself." It's a "different kind of sport" with a strong community to it, which Wiseman attributes to the fact that games are self-officiated and center around "spirit of the game."
Wiseman's future as a player looks bright as well, despite a "catastrophic" ACL injury in May 2016 that prevented Wiseman from competing at Worlds in London this year. Wiseman describes the injury as a "real disappointment" and "heart breaking," but also says she will make a full recovery "and then some." The mental challenge has been worse than the physical challenge. She has spent a lot of time "figuring out who I am if world-class athlete isn't part of my identity for a few months," she says. "Getting through this year will make me a much stronger competitor," Wiseman says. "Plus, I have a lot of rage built up that I can't wait to take out on the field."
Because Madison has world-class Ultimate athletes such as Wiseman to build the sport from the ground up, most middle schools in the Madison area now have teams, and there are opportunities to play the sport at all ages, abilities, and levels of competition. The impact that Wiseman has had on women's Ultimate, in particular, is undeniable. Wiseman's selflessness and commitment to the sport is demonstrated by her favorite moment in Ultimate. Rather than focusing on her own personal accomplishments, she says that her favorite moment in Ultimate to date was at Regionals with Bella Donna in 2015 where she witnessed the team pulling together as under-dogs in poor conditions to play their hearts out. "The girls just clicked as a team . . . 24 young women at the same time, having a moment, together. I got to be a part of it, and that was really special," Wiseman says, exhibiting her characteristic pride and enthusiasm for Ultimate.