He's no student driver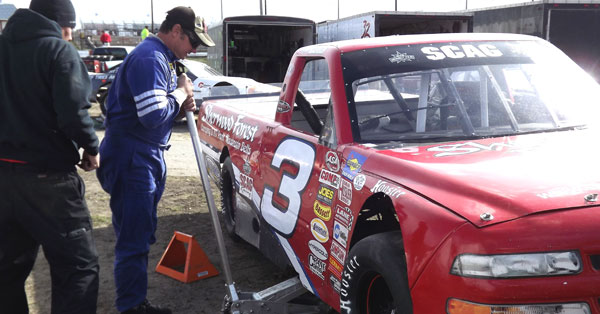 Troy A. Bruzewski, Sports Editor
October 9, 2012
Dann Barber finished second in the American Speed Association Midwest Truck Tour's finale at Lacrosse Fairground Speedway, Friday and clinched third place in the final standings.
Barber – a Madison College alum – won two events this season and entering Friday's race, could have finished the season as high as second, or as low as fifth. Barber was strong in qualifying and a heat race, but those were held in daylight hours. As the feature approached and the sun set, temperatures at the track dipped to the mid-30s, forcing many teams to make adjustments to their setup.
"We had to adjust air pressures, add more stagger in the rear and loosen the car," he said. "It seems trucks in this series have to start the race on the loose side, because if the truck is tight, it gets progressively worse."
Barber qualified with a lap of 20.384 – temporarily good for the pole position. However, James Swan – who clinched the series title, Friday – played spoiler as usual and bumped Barber from the top spot. He followed that with a second-place finish in his heat event and drew a seventh-place starting spot.
He quickly advanced to the top-5, which was important in this 25-lap event.
"Have to get to the front as fast as possible, in order to have a chance," he said. "Not just in this race, but in this series."
Barber was able to close on Swan, who led the race and eventually won, but was unable to pass. The second-place finish was satisfying for Barber; not only to clinch the top-5 finish in the standings, but to do so in his first full-time effort in ASA competition and while racing at tracks he hadn't seen before.
"I raced at Madison (International Speedway) and Lacrosse, that's it," he said. "I wasn't sure how the season would go, when we first decided to do this thing. Two wins and a top-3 points finish certainly wasn't expected."
Barber was track champion in the truck series at MIS, in 2005. Barber said he's prepared to run the full season again next season.
Scott Kingswan – a Madison resident and teammate to Barber – finished 13th in the feature and 25th in season points.