Close, but still short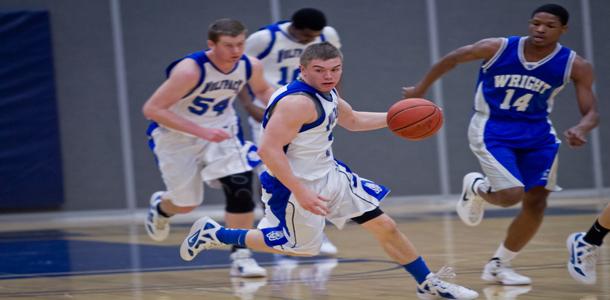 Clarion Staff Report
January 24, 2012
All four of the WolfPack men's basketball team's conference games this year have been close affairs, with a margin of victory of less than 10 points.
Madison College, though, has managed to win just one of those games, holding off Wilbur Wright College for a 68-60 victory on Jan. 18.
With 10 conference games remaining on their schedule, including two this week, the WolfPack hope to win a few more of these close contests.
In Madison College's most recent game, a 70-64 loss to Rock Valley College on Jan. 21, the WolfPack challenged its opponent throughout the game. Rock Valley College out-scored Madison College by only three points in each half.
But this small difference was enough to drop the WolfPack's overall record to 3-14.
Garret Borgrud scored 25 points to lead Madison College in the loss, while Tyler Kowalkowski added 16 points.
So far, the season has been a story of small differences for Madison College.
• It has committed an average
of five more turnovers per game than its opponents.
• It has made a slight smaller percentage of its shots than its opponents, 36.4 percent compared to 40.8 percent
• And it trails in three-point shooting, 35.5 percent to 32.0 percent.
[issuu width=420 height=280 backgroundColor=%23222222 documentId=120125043941-b15f04e803504074b2d6db377b6fe4fe name=mens_basketball username=theclarionmc tag=wolfpack unit=px id=e9d95026-ceaf-75d3-185f-d164308d208f v=2]
Still the WolfPack has reasons for optimism heading into the final 11 games of its schedule.
The WolfPack has out-rebounded its opponents and shot better from the free-throw line than its opponents. Free throws proved big in the WolfPack's one conference win this season.
Madison College led by as much as 12 points in the first half of the game and solid second half free throw shooting enabled the team to hold off late run by Wilbur Wright College for 68-60 victory on Jan. 18.
The WolfPack hit 20 of 23 free throws in the second half, converting on an astounding 87 percent.
Santiago Silva led all scorers with 16 points. Roger Davis posted his third career double-double with 15 points and third rebounds. Borgrud scored 15 points and Kowalkowski had 13 to round out the balanced attack.
On Jan. 14, the WolfPack lost at Joliet Junior College, 72-63, after falling behind by 19 points in the first half.
Poor shooting hurt Madison College in the first half. The team hit just 7 of 28 shots and scored only 21 points. Still, the team rallied back in the second half and outscored its oppo- nent, 42-32, to make for a close game. Kowalkowski led Madison College with 23 points, while Borgrud scored 15 points and grabbed 12 rebounds.
Borgrud and Kowalkowski also played well against Milwakuee Area Technical College on Jan. 11, with both scoring 18 points in a 67-70 loss.
Again, the WolfPack started slow on the road, falling behind 38-17 in the first half before dominating in the second half.
Unfortunately, the 21-point deficit was too much to overcome. Madison College has two conference games this week, traveling to Glen Ellyn, Ill., on Jan. 25 for a game against the College of DuPage and hosting Harper College on Jan. 28 at 3 p.m.