Time spent in athletics, newspaper was something special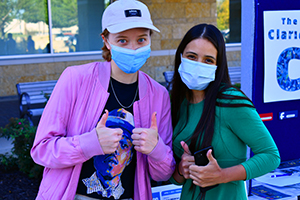 I've always been a busy person. I can't remember a time where I didn't have at least two jobs, not counting school or sports. There were times when it was overwhelming, but now, as I'm on my way out the doors of Madison College, I'm glad I did it all.
I remember the first time I came to Madison. It was for a concert at the Alliant Energy Center. As we drove into the city, I remember saying something along the lines of "I would never want to live here."
And now, thanks to my time at Madison College, I'm glad to be here. It was a big change to come here, but I knew what I wanted. I wanted to play collegiate volleyball and here I was, doing just that. But after pre-season got to a rocky start, I realized I wanted more.
Joining a student newspaper meant getting to do so much more and make friends outside of the gym.
I remember when one of my first articles was published. I was sitting outside the staircase to the old Fitness Center before my shift there when my Intro to Mass Communications teacher came up to me. Larry Hansen handed me a big stack of Clarion newspapers to keep, as he said, it was something special.
That first semester, I always liked walking past the Clarion office. I couldn't make meetings because I was usually getting on the bus for an away game or working a shift, but it was comforting to see the community that lives there.
Now I won't bore you with all the details of the past years, so I'll try to keep this short and sweet.
It was an honor to represent the WolfPack on the court for three seasons. Did my coaches tell me to stop flinching at the ball because my hands would be fast enough to protect me? Yes. Did I get a concussion anyways? Yes, and I flinch extra hard now. But that's not the point. That first year, many tears were shed and it was so hard.
But I'm happy to say I got to finish my career with a couple of my best friends in the world. And above that, it was an honor to have one last volleyball season spent with my sister. I'll be forever grateful for that.
I've had the best time ever with the Clarion. There's been some long days. Design days meant working on the paper, meetings and going to practice. One night, I saw Doug after practice, and had to head to the office all sweaty to get the paper done. But even when it was hard, it was so worth it. I've got to work with so many different amazing people. It's been so fun to get to know everyone and I hope the best for them.
Whatever you do, just get involved. I know what it's like to have too much on your plate, but when it's time to put that plate in the sink, you'll be glad to have done it all.
And of course, join the Clarion. It really is something special.