Dogs on Call help students relieve end-of-year tension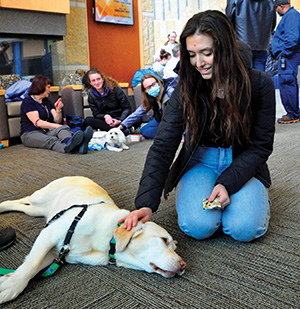 On Monday, April 25, Madison College welcomed a few returning friends that the student body always enjoy seeing: Bailey, Loki, Joy and Jesse. Everyone greeted the visitors so warmly and it was such a nice, serene hour and a half of love and tail-wags before entering a week of final exams. Oh, did I not mention Bailey, Loki, Joy and Jesse are dogs?
Our friends came from Dogs on Call, an animal therapy organization that has been proudly serving Wisconsin for a while now.
Animal therapy before the start of finals week allows students to have a few hours to let their brains decompress from all the knowledge we have spent the last few months retaining. It is said that interacting with the lovable therapy dogs can release serotonin releasing a calm state of being for the students.
The furry friends gave lots of love to the staff and student body, and there was a lot of bonding with man's best friend. Smiles and laughter could be seen and heard from students and teachers alike.
There is just something so calming and pure about the love of a dog; they love you no matter what. They have a sense of knowing what you are feeling, maybe before you even know.
I immensely enjoyed my time with Dogs on Call and would like to thank them for what they do! I hope to see them again next year for more kisses and belly rubs, for the dog of course!