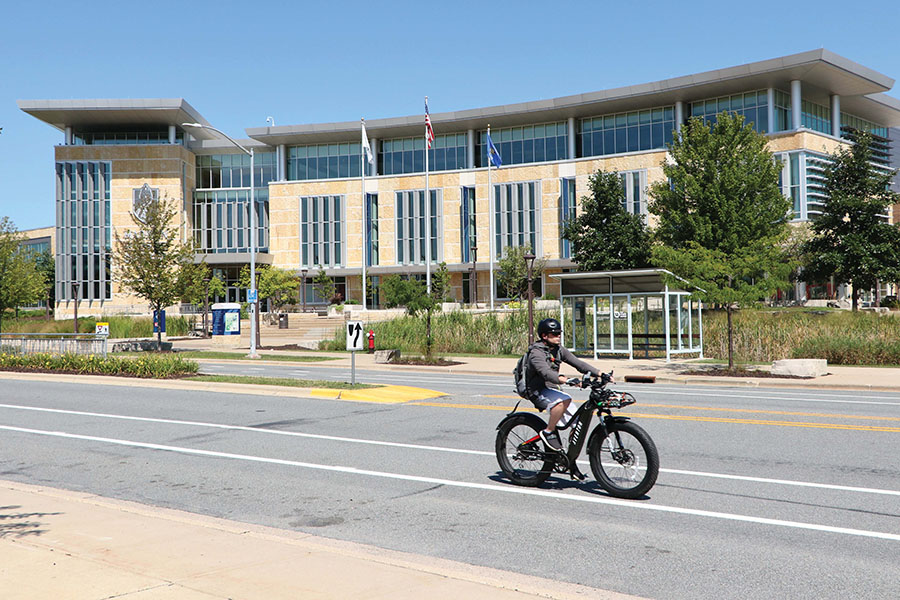 Andres Sanchez
First day of classes can be exciting. You have a new campus to explore, new books and different classmates. But before you ever even get to experience any of this, you have to get to school.
Whether you get to school using a car, bus or legs, it's crucial to be informed in order to have a successful trip.
If your main mode of transportation is car, make sure to register your vehicle online. In previous years this was done on a physical form, but the entire process is online now. This can be found on the public safety website (students.madisoncollege.edu/public-safety) or via QR codes that are posted at the Public Safety Office at Truax.
Registering your car is important because it will help you out in case anything happens. For example, if you leave your lights on Public Safety can let you know because of the information you gave them. Or if your vehicle got damaged while in the parking lot, public safety will be able to reach out to you.
For those who don't register their cars or park illegally, they may receive a ticket. If you don't pay the $20 fine, the citation goes to the state. This could get you pulled over and eventually result in your plates being suspended.
If you receive a citation that you believe is unjust, you can dispute it. The form to do so can be found online at students.madisoncollege.edu/parking/. The same website hosts the link to pay for tickets. If you would rather pay in person, go to the Bookstore at Truax. You can only use cash or check. Be sure to bring your ticket number with you.
To avoid parking illegally, be sure to park in designated areas. This means no blocking the fire lane, no parking in the grass or on the curbs. If there's no spots found in the parking lot across from Truax, head to overflow parking. There are security cameras being monitored 24/7, and if you don't feel safe walking there alone, Public Safety offers rides to students. While driving in your own car all alone is one way to get to school, there are other ways that you can still get there in a car.
One of the other options is to carpool with others. This can be with people you know or other students that are in need of rides. Some of the resources that students can use to connect about needing or offering a ride is Rideshare and RoundTrip. RoundTrip has a Dane County specific option, while Rideshare is for those outside of Dane County.
There is preferred parking towards the front of the parking lot for commuters. To park there, go to the Public Safety office. You'll receive a physical form to fill out. One of the requirements is having three people in the car.
Another way to get to school is using the Metro bus system. As long as you're enrolled in one degree credit course, you get a bus pass. To pick up the pass, either go to Student Life or have it mailed to you. This can be done at any time during the year.
There is no shuttle for fall 2021. One of the reasons for this is because there will be less students on campus due to many classes still being offered virtually. Since the service is no longer available, getting a bus pass could help with getting to and from campuses.
For those that prefer two wheels, e-bikes are available at a discounted price. Through Madison B-Cycle, students can get an annual pass for $30 instead of the usual $120. If you don't want to invest for the entire year, it's $5 for 30 minutes. There's a station located by the main parking lot at Truax. Using the app, you can find out where other charging stations are in the area.
Of course, you can always use your personal bike. Make sure to bring your own lock.
No matter how you get to school, come early. Not finding a parking spot or being late because of transportation is never an ideal way to start a new school year.