Cost-effective car repair: Students can get some types of repair work done in auto tech labs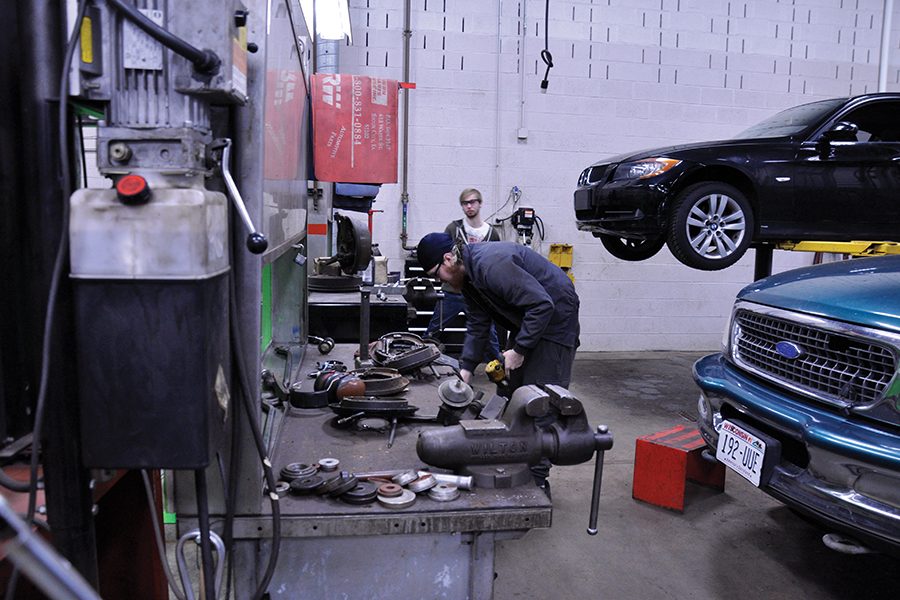 Cost-effective car repair: Students can get some types of repair work done in auto tech labs
Hang on for a minute...we're trying to find some more stories you might like.
Abby Funck had a car problem. Her vehicle pulled toward the middle of the road as she drove, trying to take her into the opposite lane. Having taken automotive classes in high school, Funck knew a thing or two about cars, and the solution seemed obvious.
"I thought it was just an alignment problem because the vehicle was driving toward the oncoming traffic," the first-year automotive technician student said. She brought the vehicle in to the college's suspension and alignment class for repairs.
Madison College offers a two-year automotive technician technical diploma and an automotive technology-comprehensive associate degree in applied science. Both are two-year programs, and while the first is more hands-on, and the second is more theoretical, they are similar in many ways.
According to Paul Flogel, director of the automotive technician and automotive technology programs, although lab cars and some simulators are used, much of the lab work is done on road-driven cars from real customers. Many of these vehicles come from automotive students, such as Funck, but students from other programs are also encouraged to bring in their vehicles for repairs.
"You get real customers that come in with real issues that you're going to experience out in the field," explains Trevor Bruehahn, a second-year automotive technician student who will graduate in May.
For students, there is one major advantage over choosing the typical automotive repair shop. Here, the customer is responsible for paying for parts, but, as an institution, Madison College cannot charge for labor. This can mean significant savings for the customer, depending on the project. Instead, donations are accepted and appreciated. The suggested donation amount is ten dollars per hour, and the money collected for auto repair goes to the Auto Club. Some of the club's activities include taking a trip to Chicago for an auto show and fixing a drag truck that has been a work in progress for several years.
If students or faculty would like the automotive students to service their car, Flogel suggests taking a trip to the Truax Auto Parts store, located in Room D1501. There, customers can fill out an Auto Work Request form, which will ask for contact information and symptoms or problems the vehicle is having. The request is then submitted to the appropriate instructor. Customers will be contacted if and when that instructor can use the vehicle for class instruction. The service is only available to Madison College students, staff and faculty.
A wide variety of services are available. Service repair procedures classes can perform include:
Oil changes
Transmission services
Coolant flushes
Other repairs that coincide with the curriculum
Automotive accessories classes are interested in vehicles that are experiencing problems such as:
Power windows, door locks or power seats not working
Cruise control, wipers or lighting issues
Airbag light on
Blower motor making noise or inoperative
Automotive driveability classes are looking for vehicles that are experiencing problems such as:
Check engine light (service engine soon light) illuminated
Poor acceleration
Rough idle
Hard starting
Other engine running problems
The students will complete as many repairs as time allows before the end of the semester. They only accept cars while class is in session. Minor repairs such as a brake job can be completed in a day or two. For a transmission or engine job, the timeline is about 6 weeks. In some cases, it is best to take the car to a regular repair shop if the driver is unable to have it left in the shop for that long.
Abby Funck is glad she brought her vehicle in to be checked. In her case, fixing the wheel alignment failed to solve the problem, leaving her baffled. It was time for Funck and her classmates to play automotive detectives. The diagnosis?
"The tires were badly made and had to be recalled," she said. With a new pair of tires, Funck and her car are now safely back out on the road.