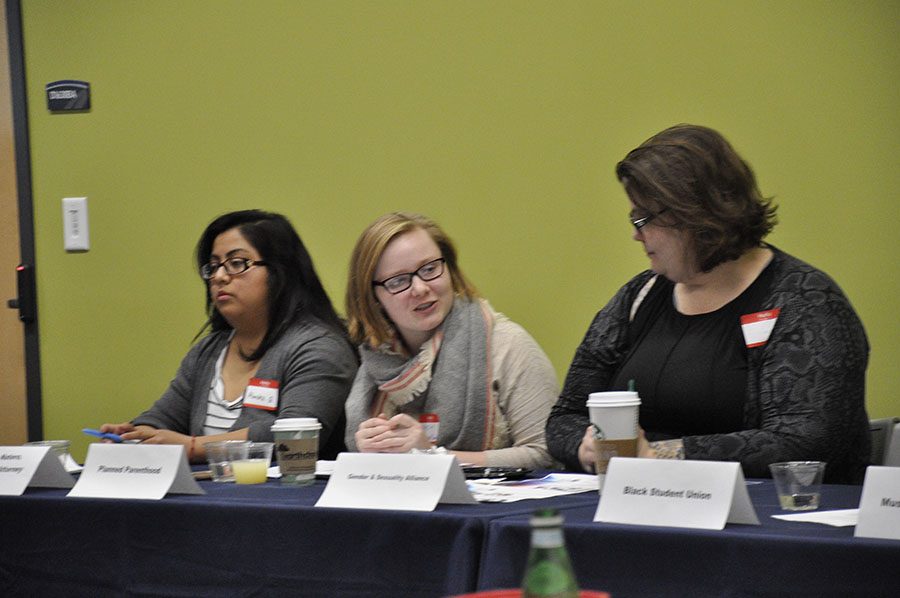 Allie Christensen/Clarion
During the same week that Madison College faculty and staff union hosted a solidarity gathering to "ensure students and employees that MATC is committed to its values of student success, diversity, inclusion, and tolerance," swastikas were found drawn in two Madison College bathrooms.
Similar incidents have occurred on other campuses around the country. The Southern Law Poverty Center counted 867 cases of hateful harassment or intimidation within 10 days of the Nov. 8 election, and college campuses have been greatly affected.
After the incident occurred sometime on Nov. 29, Madison College President Dr. Jack Daniels released an email to the college, where he stated: "Such symbols (swastikas) can be as destructive as acts of violence without any outward expression of a physical or verbal assault. When acts of violence occur – verbal, non-verbal, physical assaults – the college will act appropriately to ensure that our values are upheld and are secure. Each of us has a responsibility in upholding these values and addressing injustices when we are confronted by them."
The swastikas were found by custodians in two male bathrooms and were removed shortly after.
College staff members expressed disbelief and shock upon hearing about the incident occurring here on campus. Rogelio Encizo, student support advisor and advisor of United Common Ground, heard about the swastikas from a student, during an Interclub Diversity Council meeting. The student, Encizo said, was listing off things that he had seen around that were hurtful, impactful, sometimes hateful.
"It's a very hatefully charged symbol, there's a lot of connotations involved with that symbol," Encizo said. "The first thing I think of when I see that symbol is people dying, or incinerated, or put in gas chambers, or wars, a lot of bad thoughts, even though I might not be tied to the symbol itself.
"I really hope that people see it as a way to show that the college actually cares about what's out there," Encizo continued. "Even though it's a symbol and no one physically got hurt because of this, I think it's way to show that this is not what our community is about here. I was really grateful that Dr. Daniels put a message out there. … It makes me feel like we are striving to be a safer place for students and staff."
"There are no positive things coming out of that kind of symbolism," says Francois Mizero, student and United Common Ground member. "It's all about the symbolism, because everyone knows what it means, so we know that whoever drew it had the wrong intentions."
Dr. Daniels said he has heard a few varied responses over the incident. "I've had a couple of emails who were asking why we were concerned about it. On the other hand, I've had a couple of emails where they said 'thank you for your sensitivity and understanding.' Other than that, nothing."
Anton Sederquist, student at Madison College, said that he is "disgusted. I don't think that sort of speech is right at all. In the wake of the election we just had…people are in fear as it is that they are going to be threatened, killed, deported. … This doesn't promote inclusivity on campus, it doesn't promote acceptance on campus, it promotes 'I am better than you.'
"People have their opinion, and that's OK, but we have to call out those that promote oppression," he said.
Sederquist has a message to those impacted by this:
"Do not worry," he said, "you've got people who will stand up for you. You've got people who will call that out as racist, anti-Semitic, and stand up for you."
Student Senate President Alex Hipler, a Republican, stated that he accepts free speech but doesn't condone harassment in this manner.
"It's repulsive. I don't think it should be acceptable, and it needs to be communicated so people know it's not acceptable," Hipler said. "I think some people will feel intimidated by it and overall, it's a very negative thing."
Madison College continues to strive against intolerance by creating events and workshops dedicated to inclusivity and promotion of diversity.
The Student Senate, according to Hipler, is planning an event that will host Mayor Paul Soglin, District Attorney Ismael Ozanne, and Chief of Police Mike Koval to discuss productive plans for bettering the community post-election.
The Black Student Union plans on hosting their annual Black and Brilliant event, focusing on black excellence and the disadvantages that the black community faces.
The Muslim Student Union will host an open discussion between three religious leaders of the Christian, Islamic, and Jewish faiths, in an effort to show the similarities between all three major monotheistic religions.
As President Daniels said in his open letter to the college, "as a college community, we deserve and must have an environment respectful of all members of our community – students, faculty and staff."