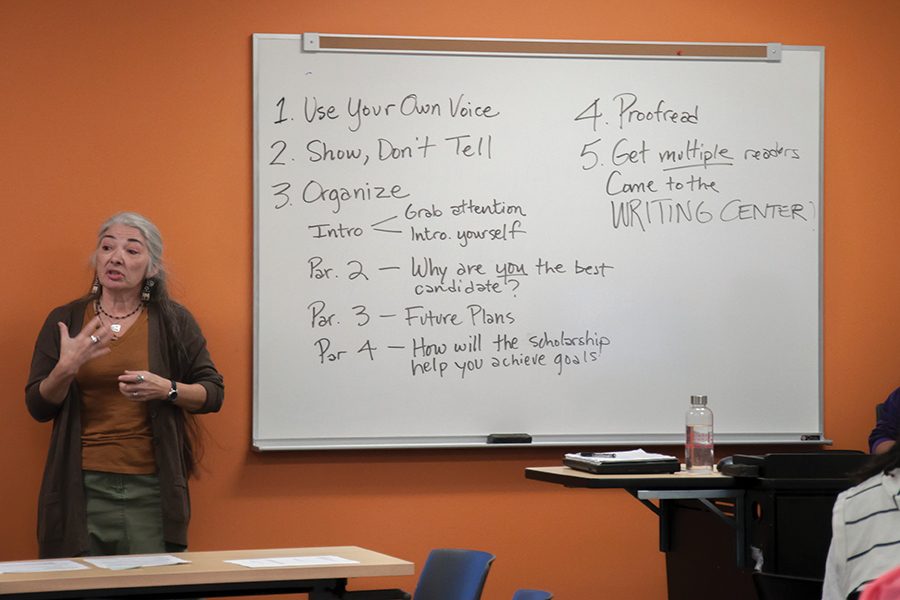 Students planning to complete a Madison College Foundation Scholarship Application recently got a little help from the Student Life Office.
Multicultural Program Specialist Katie Ackley helped lead four scholarship workshops for students, two at the Truax campus, one at Downtown and one at South.
"One reason why we do them is that we realized a lot of students were not necessarily taking advantage of the Foundation Scholarship," Ackley said.
The workshops are a collaboration between Student Life, the Writing Center and the Foundation.
"It's a three-part presentation," Ackley said. "We go over what the foundation scholarship is. Then we have a Writing Center instructor come and talk about the mechanics of writing application essays. And then the third person is about how to write a winning scholarship by adding your personal voice."
The workshops were particularly timely. The deadline for the Spring 2017 Foundation Scholarship application is Dec. 2.
Ackley said students have plenty of time to complete the application online.
Students can apply by visiting MyMadisonCollege. Ackley said once they log in, there should be a link that appears that says, "click here for 2016 Spring Semester Scholarships."
From there, Ackley said it's a simple process to complete your application. There are four primary questions applicants must answer as well as providing their contact information and a link to their FAFSA.
One piece of advice Ackley hears at each of her workshops is to "proof read and get someone else to look at your document before submitting."
Student Life will offer another round of scholarship workshops in the spring semester to remind students to complete their applications for the fall semester.
"Any time I can help someone make a competitive scholarship application and get some free money, I'm all for it," Ackley said. "Our goal is to make sure these guys can get assistance in paying for their education."