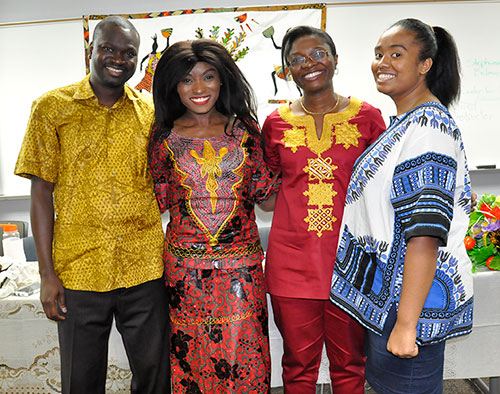 MOUNA ALGAHAITHI / CLARION
If you were on the third floor this Friday, the sound of afro-beats and the smell of Nigerian jollof rice may have distracted you from classwork. After a semester-long lull, the African Student Association (ASA) came back onto the college scene after weeks of debating what event would be a strong and memorable reintroduction. A fashion show? A cultural potluck? ASA settled on hosting an African Awareness Panel, to bridge the gap between common African stereotypes and the reality of the complex African continent.
Joining forces with Black Student Union (BSU), the African Awareness Panel took place last Friday on Nov. 7, featuring a panel of primarily African, Madison college faculty.
"The purpose of the event," ASA president Iracema Farmer begins, "is to get friends of Africa (BSU) and ASA to interact with each other and understand that these stereotypes are just talk. We wanted to present what Africa is really about, not just bad houses and people starving, but true African culture."
Among the panelists were Stephanie Belmas, International Education Student Support Advisor, Teresa Amara, Student Transfer Advisor, Cherif Correa, English Instructor, Afia Yamoah, Economics Instructor, and Dzigbodi M. Akeya, Advisor.
Included in the conversation were the difficulties Africans have integrating into American culture when first arriving, the most common stereotypes they were used to hearing, and what are some ways young college students can help to discontinue these myths.
Instructor Afia Yamoah responded that among the most bothersome stereotypes was "that it was a privilege for an African to be in the United States," despite that she came here from a middle-class African family. "My maids back home are now driving better cars and living in bigger homes than I am," Yamoah chuckled.
Instructor Cherif Correa brought up that the tension between Africans and African Americans here in the U.S. "The ones that you'd think would be on your side were sometimes the toughest," advisor Teresa Amara said. Both of the panelists agreed that these misunderstandings between blacks and Africans were due to inadequate and unreliable education and media perpetuation.
Amara shared her stories from when she first joined UW-Madison campus as one of the few Africans in attendance. She quickly learned that "if we don't speak up (about the stereotypes), we're letting someone else speak for you."
"We need to let people know that I'm from a different culture, and that these things are new to me," Correa explained, sharing an anecdote from when he had first come from Senegal and hadn't know how to use a computer yet.