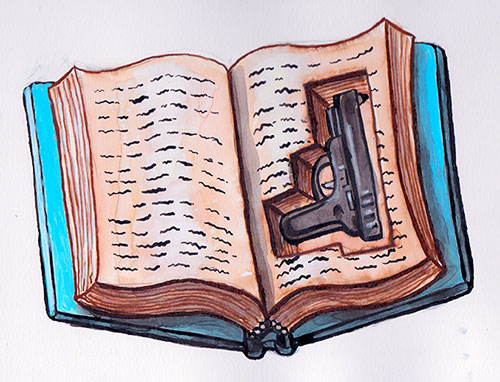 Michael Edwards
There have been more mass shootings this year than days in the year. This fact comes as a shock to many, including State Representative Melissa Sargent, who shared the information from the online Gun Violence Archive.
There have been 279 mass shootings nationwide this year, according to the archive. More than 42,000 incidents of gun violence have occurred, killing 10,791 this year alone and injuring an additional 21,946.
On Oct. 12, two Wisconsin state legislators, Rep. Jesse Kremer (R-Kewaskum) and Sen. Devin LeMahieu (R-Oostburg), proposed a bill that would allow concealed carry into campus buildings, including residence halls, dormitories, and stadiums.
The proposal is expanding on the 2011 bill that allowed concealed carry throughout the state, including college grounds, but gave colleges the autonomy to ban weapons in buildings by posting, "No Weapons Allowed" signs on all entrances.
If this bill becomes law, colleges would no longer have the ability to ban concealed carry into individual buildings and areas. Rep. Sargent specifically expressed concern with the new proposal taking effect in a place like Camp Randall, which holds upwards of 80,000, many often intoxicated.
In response to the campus concealed carry proposal, Sargent and two other Democratic state legislators, Rep. Chris Taylor and Rep. Terese Berceau, introduced the "college campus dangerous weapon ban" bill that would make carrying a concealed weapon on campus grounds a Class I Felony.
"Currently, campuses can make their own decisions," Rep. Sargent explained. "Our bill would say not in Camp Randall, dorms, lakeshore bike path, or parking lot at Madison college … but a complete ban of dangerous weapons on public campuses.
"What we need to be doing as a community, rather than saying our students are sitting ducks and that we need to arm those around them, is figuring out how to make our society more safe by talking about this and figuring out what we're doing wrong as a nation."
"We need to be thinking of this through the lens of public health," Rep. Sargent argues. "(And view the rise of mass shootings as a) public health crisis."
Sargent understands that with a Republican-controlled legislature, many of whom are supported by the National Rifle Association, the likelihood of their bill being passed is slim.
"Our proposal is a pebble in the pond, and we're hoping that by doing so, it creates ripples and the ripples grow," Sargent said. "I very much believe that it's my job to hear the voices of the people, and I often find myself proposing legislation that isn't going to pass but it's creating conversations across the state (that may not have been had otherwise)."
Currently, 21 states allow individual colleges and universities to decide on whether or not to permit weapons on the ground. Kremer's proposed bill would repeal the autonomy of the Wisconsin Technical College System, which consists of 16 technical colleges across the state including Madison College, as well as UW systems and prohibit them from banning licensed concealed carry owners from bringing their weapons into campus buildings.
Mark Thomas, Madison College's vice president of administrative services, is able to view both sides of the debate with concern regarding the impact such a law would have on their current emergency evacuation plan.
Thomas also wonders if this bill was to be passed, if the final law would be the same as the proposed law, or would it allow for exemptions in certain public institutions like Madison College that hold child care centers.
The argument circles back to the Second Amendment, Thomas said. While Madison College is publically funded, hence on public property, taking away gun-owners rights to carry their weapons is supposedly an infringement on the right to bear arms as many often argue.
However, research has shown that countries with higher gun ownership have a direct correlation to higher levels of gun violence, and the United States has the highest level of gun ownership in the world.
Others believe that guns aren't the problem, but the individuals behind the guns are.
In the state of Wisconsin, the process of obtaining a concealed-carry license is minimal, and doesn't include extensive mental health background screenings, an extended waiting period, background checks and letters of references or notifications from kin similar to effective methods implemented from other countries like Japan, the UK, and Australia, where gun violence is incredibly low.
"With the amount of shootings that have happened, it was almost a matter of time that society would want to be able to protect themselves," said David Waraczynski, 10-year veteran between Marine Corp and Army.
"This is not a practical solution in helping lower the gun violence. These will continue to happen whether we have a concealed carry or not. It's a psychological problem. Not a weapon problem. We as a nation should be focused more on that, instead of blaming an object," Waraczynski explained.
"I have spent over 10 years in the military, between active duty and the reserves, whether weapons are concealed or out in the open, it is all about who is behind them. I would be more weary of the random individual that has little to no training on their weapon of choice. Not being trained along with the mindset of thinking they will handle a situation like Bruce Willis in a 'Die Hard' movie… that is honestly what I fear."
The passing of this bill into law may even make some students afraid to further their education.
"I don't want to be caught in the crossfire," explained Madison College student Jabari Caire. "I probably wouldn't come to school. I'm not going to come to a school where they allow guns to be carried around.
"So many people are scared of guns, UW and MATC would probably lose students who fear these weapons," continued Caire. "And even these licensed gun owners have accidents or get into heated arguments. There was just that accident (earlier this year) when a man accidentally shot his foot in the bathroom, for example. We don't want that here.
"… Don't get me wrong, I'm not saying to take guns away from people, I do believe in protection, but I don't find it necessary to carry them around in schools."