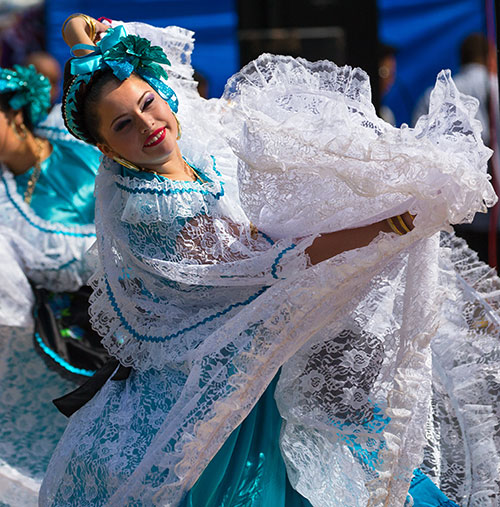 Kirk Lawler
The aroma of corn tortillas and cilantro filled the parking lot of the Mallards Baseball Stadium. Traditional musical instruments like the marimba and the guitarrón mexicano kissed the air as attendees danced to the live, salsa beats. Dozens of people circulated around the several different Latino restaurants, including El Restaurante de Sabor and Habaneros, plates loaded with flavor and spice in tasty poblanas, tacos, or tostadas. Young boys and girls were dressed in beautiful china poblanas and other flashy outfits, celebrating Mexican Independence Day a few days early, on Sept. 12.
Mexican Independence Day is the day after Hispanic Heritage Month begins, which creates a harmonious opportunity to learn about values and cultures from the plethora of Spanish-speaking countries.
"[Having a Hispanic Heritage Month] makes me feel proud," Edith Flores, alumna of UW-Madison, said. "Normally, people in this society will be offended if you're speaking in Spanish. Where I work, they asked me to stop speaking Spanish because others might think I'm talking to them, even though I'm having a 1:1 conversation with someone. But this is a month where [our language] is celebrated, and everything that is [Hispanic] is celebrated. Other people get to learn about you, and you get to be unapologetically yourself. We should be embraced more."
On what to expect at these festivities, Flores explains, "There is always going to be live music, folk-lore outfits like sombreros and the long dresses. We dress up based on the different regions we're representing in Mexico. The most popular is the Puebla region, where the girls have big flowers all over their dresses, in different colors."
In every city in Mexico on Sept. 16, communities come together in anticipation for the reenactment of El Grito de Dolores, or the Cry of Dolores.
"El Grito de Dolores is the scream, or the independence call…whatever you want to call it," continues Flores. "It represents Miguel Dolores, the priest that helped lead the independence war. It's what you hear in the mariachi music too, it signifies the call to independence, which occurred in 1810."
The Cry is considered to be the battle cry that ignited the Mexican Independence War. On Sept. 16, 1810, Roman Catholic Priest Miguel Hidalgo y Costilla rang the church bells to summon the nearby workers, where he historically said, "Know this, my children, that knowing your patriotism, I have put myself at the head of a movement begun some hours ago, to wrest away power from the Europeans and give it to you."
After the call, it would take over a decade of a bloody war for the Mexican people to finally declare their freedom.
Centuries later, Mexican politicians and leaders gather in each city's central square, also known as the zócalo, to ring the church bell and mimic the same cry. Fireworks shoot across the sky, music is played throughout the day, and feasts bring several thousands Mexicans together every year.
Although the Mallards baseball field is nowhere near as cultural or traditional as a Mexican zócalo, many Central Americans, Mexicans, and gringos galore come together to celebrate freedom.
"It's a home away from home event," Flores says with a smile on her face.
"You don't [normally] see all of these Latinos coming together, all of these businesses…we assume that because Madison is predominantly white, there isn't any of this. But there is, and events like this are a great way for me to stay in touch with my heritage. You get to meet a lot of the Latino community. And now we get this whole next week, full of events just for us."