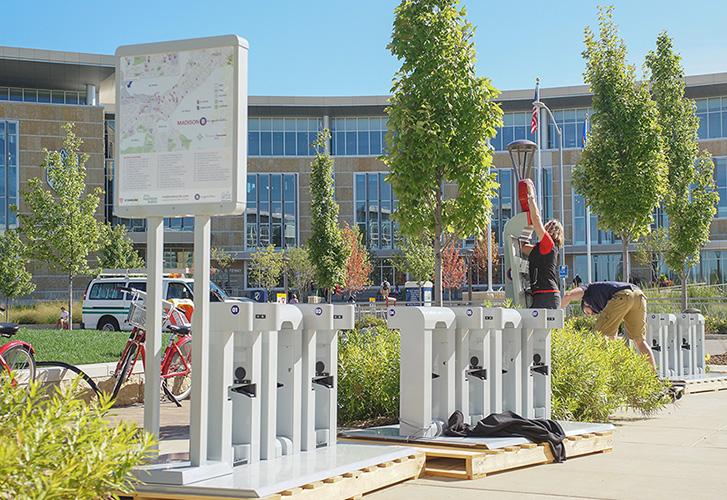 Josh Zytkiewicz
Have you noticed the new bright red bicycles outside of the Health Education building? The new B-cycle station was installed on Wednesday, Sept. 9. At part of a trial period, the bikes are free to use by all current Madison College students.
"Students can take a break from classes, or simply get from one place to another like Olbrich Gardens or Tenney Park, in just a half hour time span," says Rick Poole, a Madison College student who has been working with the Student Senate in commuter services for the past few years.
B-cycle is a bike sharing service that encourages short trips. Madison College students can use the bikes for free in 30-minute intervals. The student then returns the bike to any B-cycle location, goes about their activities, and uses another bike for the return trip. Checking out a bike for longer than 30 minutes costs $3 for every 30-minute block. The trial period lasts for the rest of the fall semester.
After the trial period, students can maintain their B-Cycle membership for an affordable $20 a year, a discount from the $45 a year that other students pay and less than the $65 a year that non-students pay.
"Madison College hosted a luncheon that met with many other north side businesses that were interested in B-Cycle, and we realized that this what a network could look like," said Jackie Dahkle, Student Senate advisor. "We hope that this will be an investment in wellness, in environmental sustainability … as well as getting other businesses to join our network."
Purchasing and maintaining a bike can be pretty costly, with an estimated $350 annual cost according to James Schwartz of Urban Country. With this new initiative, all you have to do is swipe your B-cycle card for a nearly-indestructible bike. No need to worry about bike locks, bike management, repair and the long process of looking for a worthy bicycle. To sign up visit the B-cycle website at Madison.B-cycle.com and register with your student email.
A ribbon-cutting ceremony is scheduled for October, in honor of this new initiative and Commuter Services Awareness Month.