Tiny home, big impact
Occupy Madison fundraises to build tiny mobile homes for those without housing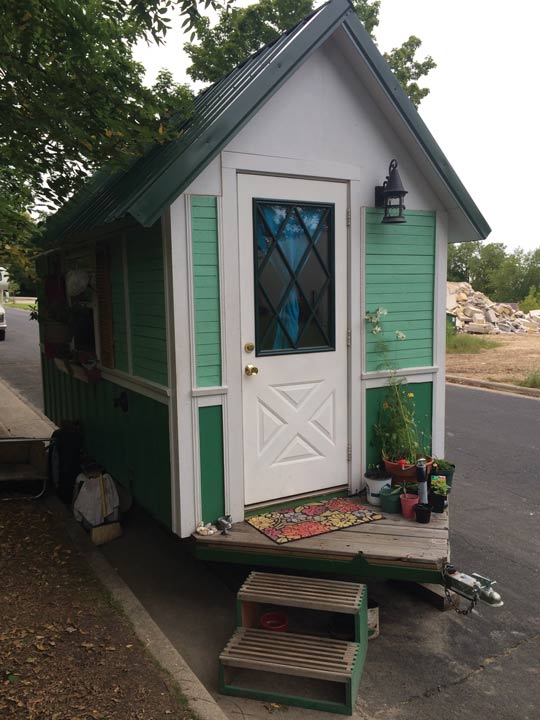 Before the brutal Wisconsin winter sets in, the Occupy Madison(OM) Tiny Houses project needs help covering costs to finish needed renovations before the low-income housing is inhabitable.
Co-President Allen Barkoff gave a presentation at a retired Madison College faculty meeting outlining the current situation for the nonprofit organization.
The OM Tiny House builds 14'x17' homes for low income occupants who are without housing. OM is renovating a former gas station at 304 N 3rd St to accommodate the Tiny Houses of the new OM Village. The modified building will provide bathrooms and showers for residents which are not built into the Tiny Houses.
Once the renovations are complete and meet city housing codes, the three completed Tiny Houses can be inhabited. Occupy Madison is also seeking monetary aid and volunteers to help in their efforts of building up to nine Tiny Houses by next summer.
"We need people to help with fundraising. We still need money in order to make this first phase a reality. We haven't gotten any money from the city. All of our money to do this has come from volunteers and their fundraising strategies." Barkoff said, "We need help in terms of volunteers. We need help in terms of money. And we need people with a variety of skills. And that's where MATC could come in."
The OM movement started in 2011. The group originally formed to help find legal residences for the homeless community in Madison. The members of the group set up a camp at 800 E Washington and have since been forced to move over 30 times. The new building replaces the shop that was rented on the east side of Madison where the group constructed the three Tiny Houses.
"It's a much more environmentally and economically sustainable way of living and politically forward thinking." Barkoff said, "That's our vision and we are working really hard to make that vision a reality."
The OM Village will be self-managed, cooperatively run, and self-sustainable. The village will construct raised bed gardens for residents to grow their own food. The only payments the low income residents might have to pay is for their utilities like electricity and heat. Barkoff said they hope to eventually have solar power to supply the energy for the buildings to help keep costs down.
OM will be holding an open house fundraiser on September 26 from 5-7pm. They will have some of the items made by residents and volunteers for sale and all are welcome to come view the new site.
"If people just want to come and look around. We will have some snacks available," Barkoff said, "They can talk with various people who are going to be living there."
The OM Village is accepting donations at their website occupymadisoninc.com and encourage anyone who wants to get involved with the project to contact them.