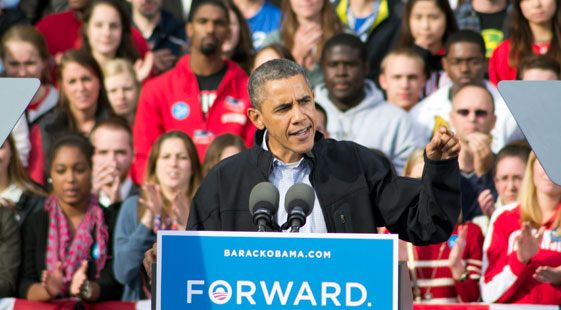 President Barack Obama's campaign stop to Madison brought in roughly 30,000 people to hear him speak on UW-Madison's Bascom Hill. The crowd was a mixture of students and local residents. Obama did not waste any time addressing his much criticized debate performance from the day before.
"I met this very spirited fellow who claimed to be Mitt Romney. But I know it couldn't have been Mitt Romney because the real Mitt Romney has been running around the country for the last year promising $5 trillion in tax cuts that favor the wealthy. And yet, the fellow on the stage last night who looked like Mitt Romney said he did not know anything about that. It was all news to him," Obama said.
The President continued to discuss Mitt Romney's debate stance, even making jokes at his opponent's future plans.
"He'll get rid of regulations on Wall Street, but he's going to crack down on Sesame Street. Thank goodness somebody is finally cracking down on Big Bird. Who knew that he was responsible for all these deficits?" Obama said.
Obama continued to question Romney's character, claiming that Romney will say anything in a debate to win the viewers over. Obama stated that whoever wants to be the president owes the American people the truth.
Obama continued discussing his desires for the future if he is reelected and accomplishments from his past term. Obama told the audience that he refuses to ask students to pay more for college. He also informed the crowd that when our troops come home to the United States he would serve them as much as they have served us.
One main focus of his presentation was to get others go out and vote. Whenever the crowd turned negative towards his opponent Obama simply responded with, "Don't boo, vote." He promoted the idea of unity within our nation. Obama encouraged the audience to remember that their voice can cause change and to believe in the idea that one voice can make a difference.
UW-Madison student Karli Contreras said, "I think we should feel honored to have him visit and speak for the second time regardless of your political views because it's not something very common." Contreras continues by saying "It was also a great opportunity to become better informed for the upcoming election."