Anime Milwaukee: Anime-zing Experience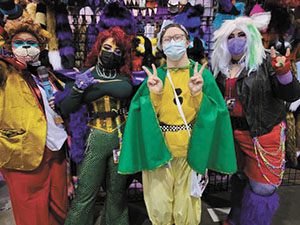 On Feb. 3-5 I had the pleasure of attending Anime Milwaukee (AMKE), a three-day anime and gaming convention hosted in the Wisconsin Center. AMKE is known for being the largest anime convention in the Wisconsin area and is one of the bigger cons I have attended. Don't believe me? According to ABC Wisconsin reporter Kendall Keys, more than 10,000 people attended every day this year. 2023 was the convention's 15th year in operation and my second year attending.
I really enjoyed my time at this convention. Besides it being my first con of the 2023 season, the atmosphere and people made it wonderful for me. The event covers the three floors of the Wisconsin Center and offers something for everyone. If you're interested in learning more about cosplay, voice acting or the best anime shows, you could attend one of the many panels of the weekend. Maybe your interests lie more in the gaming aspect of the culture. AMKE provides both a video game room and a board game room. Perhaps you're more of a celebrity fanatic. If so, you could meet voice actors and other industry-based people and get their signatures on personal items or art they have for sale.
Personally, I visited the video game room, the exhibit hall, artist alley and roamed the halls. The video game room offered a variety of games from arcade games like the classics (Pac-Man, Centipede, Carnevil), racing games (Initial D, Crazy Taxi), rhythm games (a drum-based option, piano) and Dance Dance Revolution. If you're more of a console-based player, you could rent out any console you could think of, ranging from Nintendo 64 to Nintendo Switch, as well as any game you wanted. VR stations were available as well as PCs with downloaded games on the desktop.
The exhibit hall and artist alley were combined and were located on the third floor this year. Both had a nice selection of merchandise for any type of fan. They had plushies, clothing, backpacks, stationery, posters and figures; basically, anything you could think of, they had! Artist alley is a cool place because it's full of artists who make prints, keychains, buttons, bags, clothing and stickers with all your favorite characters (or original art too) in their own style. It's a nice way to support artists from all over the country.
Even roaming the halls is a nice way to spend time at this convention. Not only can you people-watch, but you can explore new areas to take pictures in, see attendees show off their favorite characters by being in cosplay, find a place to take a break from all the walking and take in the amazing food options. This year AMKE offered a great selection of food and drink from smoothies and coffee to Asian cuisine and pizza.
Overall, Anime Milwaukee was a fun event to attend. The atmosphere is lively, exciting and positive; you just feel welcome to be there. It's a wonderful way to spend quality time with friends and family, buy some cool merch, play video and board games you've maybe never heard of or your favorites and just be in a place where there are people with similar interests to you.
If you are interested in attending next year's event, the dates are March 8-10, 2024. You can pre-register for a badge on their website or you can buy your badge at the door. I hope to see you there next year!