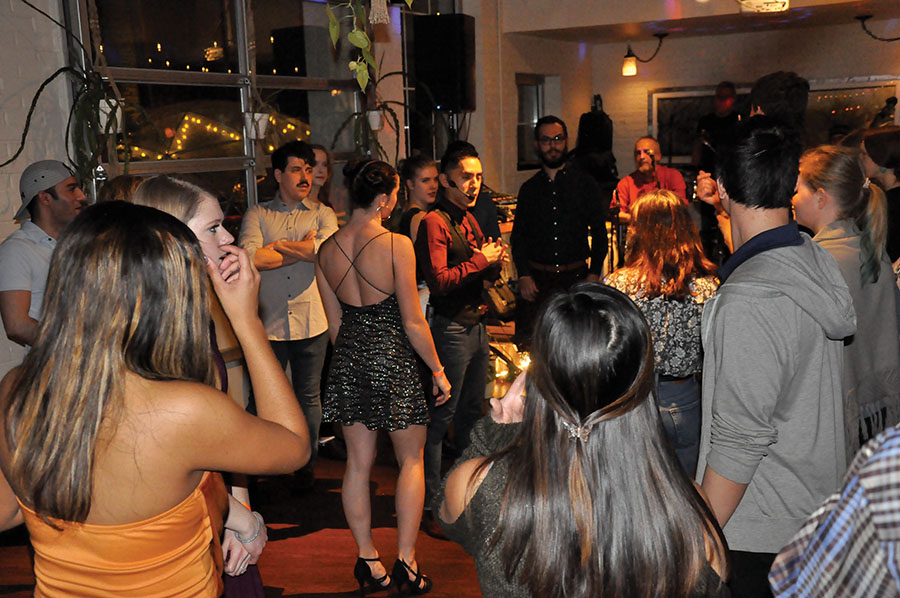 Hailey Giffin / Clarion
It's Thursday night. It's almost the end of the week, and you've had a long day at work. You feel like a night out on the town is much needed, but there aren't many places that cater to the Thursday night crowd. Never fear; Robinia Courtyard's Latin dance jam sessions are just what you've been searching for.
Every Thursday, Robinia Courtyard hosts live Latin Jazz music, dance lessons, and DJ sets from 8:30 p.m. until 12:30 a.m. The dance lessons, led by instructor Luis Armacanqui, start at 8:30 and run for about an hour. Afterward, live music plays for about an hour, then Luis comes onstage to DJ until the end of the night. The cover charge is only $10.
During the Latin dance jam session that I attended on Jan. 9, Luis taught Cha-Cha-Cha. According to Luis, "Cha-Cha-Cha is similar to the Salsa step, but you have a bit of syncopation in the middle, kind of like a little foot shuffle. As opposed to Salsa, Cha-Cha-Cha is so slowed down that every step must have its own flavor. You must think about every move. We've only taught Cha-Cha-Cha once or twice, but I'll alternate between Bachata and Salsa." Bachata, a Dominican genre of music, is easier to learn than Salsa. There are several different dance styles within the Salsa genre.
Tony Casteneda and his Latin jazz sextet performed for the event on Jan. 9. Tony Castaneda is a Chicano musician from Madison who focuses on Latin jazz. What exactly is Latin jazz? The term Latin jazz stems from the improvisation that the genre entails. According to Luis, the musicians "begin with a melody, and an introduction; after that, they'll improvise."
Latin dance jam sessions run every season; during Fall and Winter, the event takes place inside the Jardin portion of the Robinia complex. During Spring and Summer, the event takes place outside in the courtyard.
No matter the temperature, Thursday night Latin dance jam sessions have proven to be quite successful. Luis states that Robinia Courtyard has "become the place to be on Thursday nights."
Luis and a Latin jazz band named Acoplados started the event around three years ago at Café Coda. When Café Coda changed locations, Luis and the band moved the event to the Nomad World Pub. Now, after several location changes, the event has settled into the comfortable space at Robinia Courtyard.
Changes have been made to the event since it moved to Robinia Courtyard a year and a half ago. First, the event's coordinators have made efforts to include several different local musicians into the live music set. Second, a stage has been added to the Jardin dining room and the outdoor courtyard to accommodate the live musicians.
Luis says that he and Acoplados plan to incorporate "more of a salsa night, or more of a bachata night, or a romantic couple's night." Themed nights will collaborate with live music to create an optimal experience for attendees.
Latin dance jam sessions are open to everybody 18 and over. Luis mentioned, "One of the things we're aiming for is to make this event accessible to college students. People of all ages come out here, but you cannot have a vibrant setting without younger people too." The inclusive 18+ age restriction is just one of the many elements that add to the event's success.
When I asked Luis what advice he had for those who are new to Latin dance jam sessions, he replied, "Let yourself go. One of the biggest mistakes that people make is not doing something because you think it sounds silly, or you think you can't do it. The nice thing about Latin dancing is that you can take it anywhere. Just like in our studio classes, we rotate partners not only so that people learn different styles of partner, but just so that they can meet new people."
My experience at the Latin dance jam session was excellent. The music I heard, the people I danced with, and the dance techniques I witnessed inspired me and left me with a desire for more. I'm excited to see what the event will be like when it becomes warmer out, and things move outside to the courtyard.
If you're hesitant to attend Latin dance jam sessions, don't be. Step outside of your comfort zone. Try something new. You won't regret it.