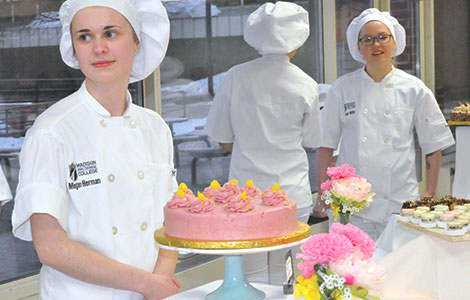 Marisa Comeau-Kerege
The Baking and Decorative Arts program held a dessert tasting event in the cafeteria at Truax campus on Feb. 9.  Over the course of a few weeks, students from the cake class were given a theme and created their own menus and presentations based on that.
"This gives them an opportunity to make not only the desserts but also the presentation as if they were doing this for a client," said Suzanne Daly, the new head of the program.
The students were paired off to bake the required small pastries as well as a full sized cake.  With macaroons and éclairs on white tablecloths with olive drab table skirts, these students certainly wowed the hundred some taste testers.  One group, Gordon and Lauren, have both been in the program for about eight months.
"I was in the culinary program first and I liked it, but I was more of a sweets kind of guy so I came into this and I've really enjoyed it," said Gordon. Their larger cake consisted of a "basic yellow butter cake, layered with raspberry filling and raspberry on top. Then lemon, Italian merengue butter cream on top and white chocolate shavings on the outside for decoration as well."
The cakes class is a third semester requirement for the program. There are other courses in various fields such as artisan breads, chocolate, advanced cake decorating, and a number of other baking labs.
The program works on a 21-week full time semester and provides students with knowledge and experience in professional baking as well as an opportunity to take the Retail Bakers of America's Certified Journey Baker exam.  With this, students can go on to earn a number of certificates from the Retail Bakers of America and continue to hon their baking skills in a working environment.
So if you enjoy a culinary atmosphere and have a knack for sweets, check out the Baking and Decorative arts program at Madison College's website for more information. Cookies, cupcakes and more are also available during the week from the student bakery on the Truax Campus, open from 9:00 a.m.-12:30 p.m. Monday through Friday.