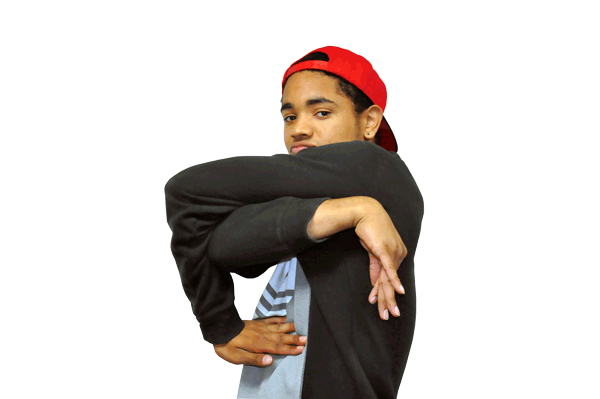 Marisa Comeau-Kerege / Clarion
Madison College student, Ebraheem Haneef, made it to the finals of the Overture's Rising Star Competition Sept. 28.  He competed as a dancer doing a particular style called animation.  No, contrary to the name, it has nothing to do with cartoons or graphics.  As Haneef describes it, animation is a style derived from popping which is a style of hip hop.
"Popping is learning to contract and release your muscles through the beat of the music, whether it's the kick, the snare or the base," said Haneef.
From there you have multiple styles including toy man and robotics, and, according to Haneef, animation is a mix between the two.  Toy man is kind of like the movements of a 1970s action figure and robotics, as the name depicts, is movement like a robot.
"Once that recipe is all added up all together and you find your own style, you have what is called animation," said Haneef, "which is a style that expresses yourself through the music as like what would you be as an animated character."
Dance wasn't always a part of Haneef's life.
Growing up in a strict household, music had never been allowed.  In fifth grade, he heard, or paid attention to, his first song, Natasha Beddingfield's "Unwritten."  Throughout middle school, Haneef become more and more involved in music, and in seventh grade was introduced to hip hop.  From then on, he became a hip hop fanatic. His passion of music has not given him the easiest of lives but it's what he loves.
In high school, he saw three kids break dancing in the halls and discovered his next step.
"When I saw them dance, I didn't even think of it being like oh this is hip hop, I saw it as like this is fun," said Haneef.
In his junior year of high school, Haneef decided that he was going to learn how to dance.  From then on, he has dedicated a lot of his time to becoming the best he can be. Haneef says he hopes to pursue dance as a career.
"What I would like to be is internationally recognized for my art, my craft, and spreading the art for others," said Haneef, "because I want what dance did to me to do for a bunch of youth out there that might need this art.  A lot of people in this world need this kind of thing, this sort of dance, this sort of form of expression and character to release whatever and to find themselves or express themselves or to find some sort of therapy."
The Overture Center is now celebrating its 10th anniversary with the Rising Stars Competition.  After auditioning 189 acts, a total of 334 local performers, there are now just 24 acts remaining, including Haneef.  The acts have been judged over six auditions by an all-star panel including Madison hip hop producer Pascal "DJ Pain 1" Bayley, Theater Lila artistic director Jessica Lanius, Tony-winning Broadway star Karen Olivo, and Circus World Executive Director Scott O'Donnell.
On Sept. 28, the 24 finalist competed for the top spot with their own show in the 2014-2015 season at the capitol theater or the next six spots that received a plaque and a cash prize of $250.  In the end, Haneef wasn't in the top seven but was happy to have made it to the finals.
Haneef's story is inspiring to say the least, and he encourages all to pursue what they love.
"Don't miss out on these opportunities.  Work hard.  If you really have a dream, why not pursue it, you don't know what's going to happen," Haneef said.  "And don't give up because you never know how close you're going to get, and you never know what your potential is until you actually pursue it."
If you are interested in auditioning for next year's Rising Stars competition, auditions will begin at the beginning of next year.  For more information, go to http://www.overturecenter.org/programs/rising-stars.