A Taste for Dane County
Annual Food for Thought Festival celebrates local cuisine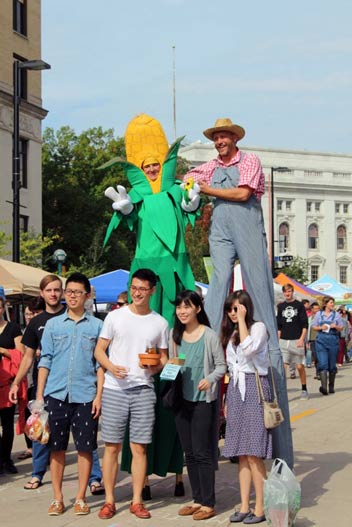 The foodies of Madison gathered downtown Sept. 20 to celebrate sustainable food systems at the sixteenth annual Food for Thought Festival.
The event, hosted by the Dane County Research, Education, Action and Policy on Food Group (shortened to REAP Food Group in 2013), took place on Martin Luther King Jr. Blvd. next to the Farmers' Market.  Many curious market goers came through to support the program and to finish out their shopping.
Bowen Close, REAP's communication director, explained a little about what the group does.
"REAP Food Group is an organization that advocates for local sustainable foods," said Close.  "So we connect local eaters with local food through restaurants and schools and healthcare institutions and all kinds of other means people use to eat."
The festival included 33 different exhibitors, including representatives from the UW Madison Office of Sustainability, Whole Foods and Willy Street Co-op. A kid's tent provided activities for the little ones, including face painting and a bike-powered blender.  Demonstrations throughout the day highlighted cooking styles and food policies. Stilt walkers dressed as a farmer and a stalk of corn teetered around entertaining the crowd and taking pictures with passersbys.
The Food for Thought Festival started back in 1999 as a culmination of talks and forums to connect those who were concerned about food issues and wanted to bring about more civic engagement for their cause.
"There was a group of people in Madison who were really concerned about talking about local food and making sure that we were recognizing all the hard work that was being done to build a sustainable local food system," Close said. "So they started this event as a way to increase awareness and get people out to meet all these organizations and really just have fun and enjoy local food!"
REAP Food Group shares a commitment to all those in food production from policy to makers, on to producers and consumers. This event is a way of enjoying their success thus far and planning for the future.
Close described the day as, "Our celebration of local, sustainable, healthful, just food across southern Wisconsin."