Rock band Garbage plans return to Orpheum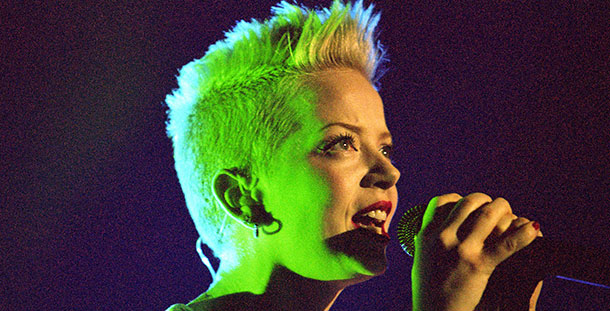 Garbage, the rock band native to Madison, has plans of playing here during its 2013 tour. These are our kind of people.
The band consists of lead singer, Shirley Manson, of Scottish descent, as well as American musicians Duke Erikson on bass, guitar, keyboards and percussion, Steve Marker on guitar and keybords, and Butch Vig on drums and percussion.
Vig shared that the band has recently toured Europe and is glad to be coming back home for the show. They had the chance to return to Australia and New Zealand, for example, and he feels the crowds there are always wonderful.
"I think it'll be more fun in a way, since it'll be our show. We won't be sharing production with anyone," Vig said about the upcoming Madison show.
The band's tour is for its new album, "Not Your Kind of People." The last time Garbage played in a Madison venue was during Pondemoneum during the last week of July in 2012.
Vig recaps on their tour through Australia last fall, saying that "[they] sort of remind us of the Midwest. Blue collar and the people are friendly."
The new album has performed well both domestically and internationally, having peaked at number one on Billboard's list of U.S. Alternative Albums, number three for U.S. Independent Albums, and number five for U.S. Rock Albums. Overseas, it did well in Scotland and Australia where it reached top ten soon after release.
The album was also the first time the band has strayed from its native Madison to record. The crew set up in Los Angeles to do "Not Your Kind of People." Vig also points out that "all band members co-write and co-produce."
The seven-year hiatus by the band leading up to the album was primarily the result of a burn-out by all members. From 1995 through 2005, the band had recorded and played hundreds of shows and performed well during that period.
The band reformed to write songs for "Not Your Kind of People" in 2010, but didn't get into full recording mode until later that year and into 2011. It was ultimately recorded in several studios across California, and produced by the band with mixing by Billy Bush, an American musician, audio engineer and record producer.
There had originally been 25 or 26 songs during the album sessions, but the band cut it down due to about 15 for the deluxe version.
"Not Your Kind of People" was a call to arms in a way to anyone who feels like we do about the world," Manson said to IFC. "It can be great to an outsider."
The last time the band came to The Orpheum was in 2005. Tickets are available through the Orpheum website and etix.com.