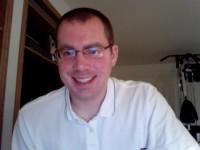 Tom Richardson has worked for The Clarion since January of 2012. Tom has provided The Clarion Newspaper with several movie reviews, and movie-related articles, since his time of being with our paper. Tom has a YouTube channel as well called "TRMovieandGameYT", where he does filmed movie reviews, movie discussions, video game reviews, video game discussions, and some of his visual communications program video work is posted there as well. Tom is also an avid runner, and writer of fictional stories. Tom hopes to be done with his visual communications college program, by May of 2014
My name is Michael Klein.  Thank you and good day.
George has been an active member of The Clarion since 2010, where he began contributions in illustration and page design. Since then, he has acted as the design director and, most recently, the editor-in-chief for the 2012-2013 school year. He loves design and learning more about the readers who pick up the paper every week. He is graduating in the Spring with a Graphic Design degree from Madison College.
Ex-Air Force, here on the GI Bill and shooting for a degree in Nuclear Engineering, Daniel Herron is the new multimedia editor for the Clarion.  In addition to writing content on a regular basis for both theonlineclarion.com and for the print Clarion, he maintains the website and volunteer tutors other students in math, physics and foreign languages.
Known as "D" to his friends, co-workers and teachers, Daniel has also written three books and speaks (with varying degrees of fluency) four languages.  Daniel has a wide range of interests, from economics and psychology to weight lifting and philosophy.  He has studied three different martial arts and identifies as a taoist.