Softball team ousted in tournament play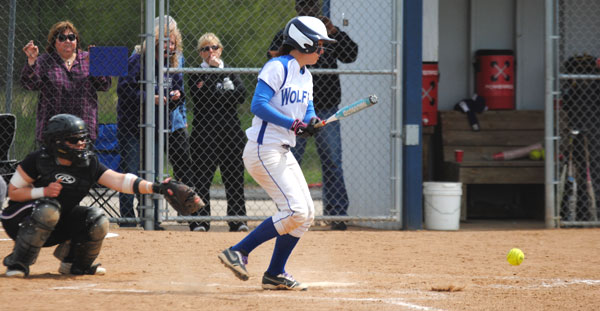 Photo Credit: Evan Halpop
Clarion staff
May 8, 2012
Filed under Sports
Although Madison College's softball season came to an end May 5, with a loss to the College of DuPage, the team had to be pleased with the improvement it showed throughout the season.
After not winning a game in 2011, the WolfPack softball team finished this year with 14 wins and had a number of closely contested losses.
Madison College's final game in the NJCAA Division III playoffs was one of those closes losses, a 6-4 defeat that saw the WolfPack fall just short of a comeback.
The WolfPack scored three runs in the third inning to take a 3-1 lead, before seeing DuPage add one run in the bottom of the third and four in the top of the fourth to take charge. Madison College added a run in the top of the seventh inning, but it wasn't enough.
Brittany Kaltenberg, Madison Milsap and Jodee Taylor each had two hits and each hit a double in the game.
It was a much better result than the day before, when the College of DuPage run-ruled the WolfPack, 8-0, in their first game of the NJCAA Division III Regional IV Tournament.
The WolfPack had six hits in the game, led by Kaltenberg's three hits, but couldn't get a run across the plate. DuPage scored five runs in the bottom of the fifth inning to win what had been a close game.
In the tournament's second game, Madison College won a pitcher's duel, defeating Joliet Junior College, 1-0. Marissa Shaner pitched the win for the WolfPack, scattering five hits and three walks while not allowing a run.
Madison College finished the season 14-24 overall and 7-0 in conference play.
At the end of the regular season, freshman Brittany Kaltenberg was named to the NJCAA Regional IV All-Region team as an outfielder.
Kaltenberg led the team in batting average, hits, runs, stolen bases and several other offensive categories. She batted .474 during the regular season, with 54 hits in 114 at bats, scored 34 runs and had a team-record 44 stolen bases.