Madison College Information Technology Association hosts workshop on landing a job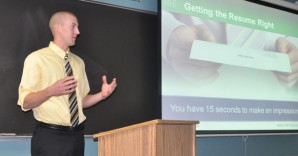 Photo Credit: Sarah Weatherbee
Sarah Weatherbee, Staff Writer
October 25, 2012
Filed under News, Top Stories
Nearly 30 students gathered at the Truax campus Thursday evening, Oct. 18, to get an edge on landing a job during tough times.
Madison College Information Technology Association (MITA) hosted this presentation, entitled "Landing Your First Job in a Tough Economy." Jason Greely and Jordan Tway, both of staffing firm Robert Half Technology, educated the audience of mostly technology-based majors on job search strategies, interviewing, and online self-presentation.
Greely first emphasized the national attention towards employment, recalling how, in the  second presidential debate, the first question both candidates fielded revolved around the outlook for youth employment. While the presentation steered clear of politics, it did raise participants' awareness of job market difficulties. It also offered free pizza.
"A lot of senior level people who had lost their jobs because of the economy are starting to look for those entry level jobs," Greely said.
Nonetheless, job seekers must maintain a positive attitude and a sense of practicality. Greely and Tway acknowledged that today's job seekers may benefit from broadening their scope of positions.  They could reach their desired outcome by taking part-time or temp work with a desired company and then network with hiring managers once they get their foot in the door.
IT Programmer/Analyst major Benjamin Hoppe knows the frustrations of looking for well-paying jobs. Already armed with a degree in Sociology, he went back to school in pursuit of more marketable IT skills.
"Everything is going mobile," Hoppe said.
He described an increased demand for mobile applications developers.
"That's where I really think the market is going, toward tablets and phones and I wanna be on the cutting edge of that," he said.
As students listened, presenters touched on the importance of researching companies using local websites such as Madison.com and making use of Madison College's career center.
Further, they taught students how they could build and maintain their network connections through the professional-targeted site, LinkedIn. A site where potential employees can connect to a wealth of information on companies.  Also, they can package their professional selves and summarize their skill set for hiring managers who are increasingly using the site to recruit.
"80 percent of jobs are never advertised," was written in bold on one powerpoint slide. Consequently, job seekers must garner opportunities by face-to-face networking, informational interviews, and marketing themselves well online.
IT Web Analyst/Programmer major Dennis Wills and IT Programmer/Analyst major Mindy Skowron both felt empowered by what they learned from the presentation.
"It was really informative," said Skowron, who is currently seeking an internship.
Wills agreed, adding, "It gave me a few ideas on how to network, which is a key factor in landing a position these days."
MITA President Angela Francis helped coordinate the presentation. She was pleased with the attendance and mentioned the importance of such events because they give students a safe environment to raise questions, practice their networking and develop communication skills in small, friendly settings.
Francis said "This is so vitally important because you've got to have those team building skills, those communication skills, those project skills, otherwise, your sunk, because the programmer sitting in their cubicle typing away at their code all day, that job doesn't exist."