On the streets, out of harm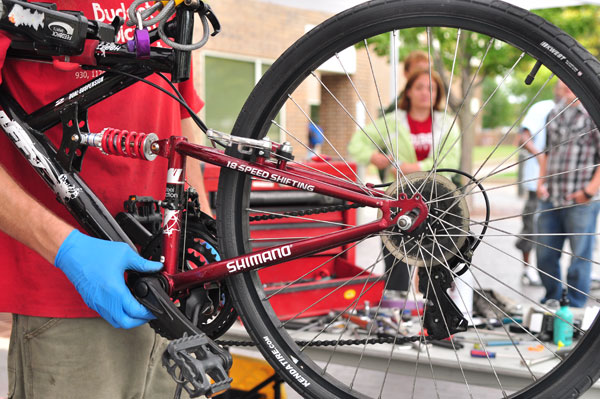 Photo Credit: Mariah Pavlova
Ellen LaLuzerne, Staff Writer
September 12, 2012
Filed under News
Most people learn to ride bicycles as small children through trial and error and with support from family or friends. Few have had any formal lessons on the best way to ride a bike or have had any training on the official cyclist rules of the road.
According to Steve Meiers, pedestrian-bicycle safety educator at City of Madison Bike Madison Program, "It is clear that bicycles follow the same rules as motorists but clearly training is inadequate, a lot of people see bicycles as a toy."
Safe bike riding involves common sense and knowledge of biking rules. For example, using a headlight and reflectors at night is not only common sense but is also required by Wisconsin statutes.
"One of the key things, now that is getting darker outside, is to make yourself as visible as possible. Twenty-five percent of all crashes happen in darkness or at night. I urge bicyclists to be as visible as possible," Meiers said.
The Department of Transportation's policy indicates that cyclists need to have a light on the front of their bikes that can project light 500 feet in front of them, which is about a city block. Red reflectors are the bare minimum. Meiers advises cyclists to get the brightest light they can afford.
Meiers also cautions that drivers should be aware of bicyclists. One of the biggest problems he sees is cycling on sidewalks. It is legal to ride on the sidewalk in some cases, although the rules on sidewalk riding vary from community to community.
In Madison, biking on the sidewalk is legal as long as the sidewalk is not next to buildings. Problems arise when cyclists ride up on a driver's right side from the sidewalk. The driver will look left for motor vehicles. When the road is clear on the left, they proceed.
"A cyclist is coming from the right and the driver doesn't see the cyclist because they are just looking for motor vehicles. The cyclist can't assume that if they see the driver, the driver can see them. Motorists and cyclists have to be more aware of each other and respectful of their rights to the road," Meiers said.
Turning left on busy streets is also a one of the more dangerous situations for cyclists. The safest method for turning left is for the cyclist to look back to make sure no vehicles are behind him or her, move toward the middle of the lane, and then turn.