Behind the scenes: Madison College students experience the Democratic National Convention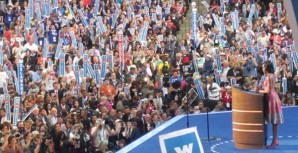 Photo Credit: Jennifer Johnson
Jennifer Johnson, Staff Writer
September 12, 2012
Filed under News, Top Stories
Everyone had the chance to watch the Democratic National Convention and Republican National Convention on television in recent weeks.
Four of us from Madison College were among the fortunate few who were able to experience a convention as party delegates.
We were among the 5,963 delegates in attendance at the Democratic National Convention, including 107 others from Wisconsin.
The others from Madison College included fellow student Devon Cook, instructor and Full-time Faculty Union President Joe Lowndes and Frances Huntley-Cooper, Madison College's district board chair.
As delegates, we got to experience first-hand what others could only view on television. We also got to meet many state and national figures, caucus with other delegates, vote to approve the party platform and participate in the nomination of our party's presidential and vice presidential candidates.
The Democratic National Convention was held in Charlotte, N.C., from Sept. 2-6. Delegates had many options for how to spend their time during the week. These events included delegation breakfasts, receptions, official caucuses and official proceedings.
The Wisconsin delegation had the opportunity to hear from Wisconsin's elected officials and key leaders of the Democratic Party during delegation breakfasts. Highlights included Debbie Wasserman-Schultz, chairwoman of the Democratic National Committee, Lee Saunders,  American Federation of State County and Municipal Employees president and Wisconsin's former Senator, Russ Feingold.
Each speaker shared a similar theme: though Wisconsin Democrats have faced tough challenges, they are still strong. Democrats must stand together to re-elect President Barack Obama and to send Rep. Tammy Baldwin to the U.S. Senate. It was tough to arrange individual visits with any of these speakers, but I was fortunate enough to introduce myself to Wasserman-Schultz and take a photo with her. (Of course, I posted it on Facebook within minutes.)
Delegates attended official caucuses during the day. Caucuses present an opportunity for delegates interested in a specific issue to come together and hear from party leaders. Caucus options included the women's, Lesbian Gay Bisexual Transgendered (LGBT) and youth caucuses.
At the LGBT caucus on Sept. 4, Reps. Mark Pocan and Tammy Baldwin delivered powerful speeches. It was clear there was a bond between the two of them and that they've worked together throughout the years to represent the Madison area.
Representative Pocan explained that by electing him to replace Congresswoman Baldwin, Wisconsin's 2nd Congressional District will be the first to consecutively send LGBT candidates to the U.S. House of Representatives. If elected Baldwin, would be the first woman to represent Wisconsin in the U.S. Senate and the first LGBT Senator.
Official proceedings are the most important part of the DNC and are held each night. These proceedings include the adoption of the party's platform and the nomination of the presidential and vice presidential candidates. The 2012 platform includes marriage equality, which states that the Democratic Party supports same-sex marriage.
Delegates heard dozens of speeches throughout the week, building up to the President's speech on Thursday night. Primetime speakers included First Lady Michelle Obama, former President Bill Clinton and Vice President Joe Biden. First Lady Michelle Obama's speech is one that students may relate to. The First Lady discussed her experience as a struggling student and the impact of her decision to pay for college with student loans.
Eva Longoria, co-chair of Organizing for America, shared similar sentiments. "The Eva Longoria who worked at Wendy's flipping burgers — she needed a tax break. But the Eva Longoria who works on movie sets does not."
Delegates were invited to attend receptions each evening and gave many an opportunity to network and to meet prominent party leaders. Madison College delegates were able to meet Vice President Joe Biden and other Wisconsin delegates met the First Lady.
The best part of the convention was experiencing an arena full of the most active Democrats in the United States, knowing you were surrounded by a group of people who have similar goals as you.