Students get readjusted with help of clinic for veterans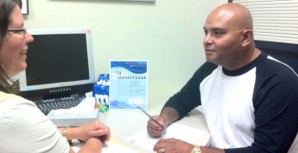 Photo Credit: Sarah Weatherbee
Sarah Weatherbee, Staff Writer
September 12, 2012
Filed under News, Top Stories
When Madison College student Jose Velazquez came home from his second tour in Iraq, he thought everything was fine. As time passed, he found himself retreating and not talking to friends and family as much. He felt lost. Although he tried to settle into his civilian surroundings and life as a student, he began to realize that something wasn't right.
Velazquez served two tours in Iraq between 2007 and 2011. As a heavy truck driver for the Army, he protected convoys and carried equipment on long treks between Iraq and Kuwait. He would routinely learn of IED attacks on convoys not far from him.
"You start to realize that no place is safe," Velazquez said.
He recently reached out to counselors at Madison College. "I said I was feeling down. I wanted to be honest with them," Velazquez said. They put him in touch with the VA Connections Clinic and Kristin Bull-Lyon.
Bull-Lyon is the clinic's full-time clinical social worker. She has been meeting with Velazquez once a week. Other staff members from the William S. Middleton Veteran's hospital in Madison visit on a part-time basis, including a second social worker, a psychologist, psychiatrist and the county veteran service officer who addresses veterans' benefit questions. The VA Connections Clinic is located in the Student Development Center on the Truax campus.
The VA Connections Clinic is one of 20 on college campuses nationwide. Clinical social worker Sarah Francois and psychiatrist Eileen Ahearn M.D., both of the VA hospital, spearheaded the grant and concept for the VA Connections clinic at Madison College.
According to Ahearn, there are close to 900 student veterans at Madison College. She explained that one of the biggest difficulties in reaching this generation of student veterans is a matter of location.
"They aren't always willing to come (to the VA). They don't know this place," Ahearn said.
Social worker Sarah Francois recalled how one veteran had mentioned how they couldn't get there between classes. It was too hard with small kids at home.
To cope with active fear and scenes of disparity in Iraq, Velazquez said that soldiers condition themselves to avoid their emotions.
"You feel fear, but you can't show it to your fellow soldiers. It's something you have to repress," Velazquez said.
Veterans carry those experiences not only as soldiers, but also as civilians here at home. As a result, many find themselves coping with depression, anxiety and post-traumatic stress disorder (PTSD). According to the National Center for PTSD, this disorder "is a mental health problem that can occur after someone goes through a traumatic event, like war, assault, or disaster."
For soldiers, these ailments often accompany avoidance and social isolation, common symptoms for readjustment. Francois explained that those symptoms might escalate over time and really impacts a veteran's success with their vocation, education and family life.
VA hospitals across the country are concerned with suicide and substance abuse prevention. Velazquez believes that suicide and reckless behavior, often in the form of substance abuse, are interconnected.
"Slow suicide in the form of substance abuse allows them to forget," he said.
Kristin Bull-Lyon routinely sees depression and anxiety in the student veterans she treats. Because they accompany isolation and a stigma against mental health treatment, she and her fellow staff members emphasize that one of the goals of the clinic is to break down barriers. She would also like to broaden awareness of veterans' positive attributes among the Madison College community.
"I've met 26-year-olds who were in Iraq and Afghanistan communicating between the local community and the military, helping bridge that gap. The maturity, the resilience; I think that's very important to talk about," Bull-Lyon said.
Since opening, she is seeing a steady increase in her caseload. Program Planning Specialist Maria Stockton, who helps student veterans enroll in classes, has put several students in touch with Bull-Lyon.
Francois and Ahearn would like to see it expand to the West campus location. In August 2013, the clinic will have a permanent place at Truax as a result of the construction on campus. It will include a veterans lounge and library. Services will expand to help launch veterans into careers and help them with post-graduation plans.
The William S. Middleton Veterans Hospital established this clinic in May 2012. It has collaborated with Madison College to offer a one stop shopping experience in a more convenient setting to Velazquez and other student veterans.
Clinic staff members emphasize the importance spreading awareness and breaking down barriers to reaching veterans.
In support of that goal, Velazquez said that this clinic provides an important service.
"No matter if a soldier tells you things are ok, things will always surface over time," he said. "It's very important to talk with someone."