Sizzling Sensation: Cookout brings good food, music, entertainment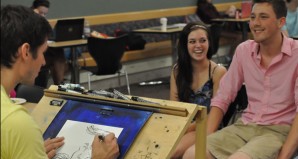 Photo Credit: Shia Fisher
Shia Aaron Lloyd Fisher, Clarion staff
May 8, 2012
Filed under News, Top Stories
The yearly tradition known as the Campus Cookout was back this year several of the college's campus. At this years annual campus cookout there were even more activities to get involved with than in years past.
"A great tradition to wrap up the end of a school year," said Mary Robbins of Student Life.
Robbins, a college employee since 1981, said that the cookout was going on since before she arrived at the college.
"When I started working here, they only had one cookout," Robbins said.
On May 1, the Downtown campus held their annual cookout. The Wisconsin Street entrance was converted into a springtime cookout with two industrial grills.
Tim Scharbius owner of Photo Booth To Go, an operation he has had since 2006, gave people a chance to snap a high quality photo to keep as a memory of times and events shared with friends throughout the semester. The booth allowed from anywhere from one person to eight people to have the opportunity to be in a photo.
If students were not drawn toward the photo booth, they had the option of receiving a caricature drawing of them rendered by Theo Howard, Madison College student.
Organized by the Student Ambassadors, the campus cookout took shape with even more free and unique activities. Bird feeders were constructed with pinecones, peanut butter, balloon ribbon and bird feed. Students gloved up for the experience while meticulously making meals for birds.
An abundance of freshly grilled burgers and brats were available for enjoyment. Vegetarian patties were provided upon request to go with chips and beverage. Filling airwaves with music, Mike Carlson and Wyatt Agard of MC Audio provided mixes with their high-energy d.j. set.
On May 3, Truax hosted a cookout of a large scale. Truax's cookout had live music as it had a live performance by Natalie Stovall, a musician from Nashville, Tenn, along with her band.